Talent spotted: Mara Balode
Up and coming designer-maker Mara Balode was talent spotted at New Designers 2017 for her innovative and eye-catching work. We spoke to Mara after she completed Getting Started and a week of work experience with resident craftsperson, Paul York.
Hi Mara, thank you for joining us here at the Goldsmiths' Centre. Could you tell us a little bit about yourself?
I am a designer maker who has recently graduated from the Glasgow School of Art. My interest in jewellery started at school and when I was 14. I used to make jewellery as a hobby and enjoyed it so once I left school and decided that metal was an interesting medium to work with, I chose to do an art course in Latvia which encompassed many different disciplines including graphic and jewellery design. Studying jewellery at university improved my creative skills, it just felt natural being in this business and I love making.
Jewellery has so much potential; it can be jewellery but also a painting, graphic design, sculpture, drawing - or everything together. It is a movable medium that allows you to express your ideas or feelings or political attitudes. I like that there is so much potential in this small object which is so precious and connects with people in a very personal way. I am very passionate about it.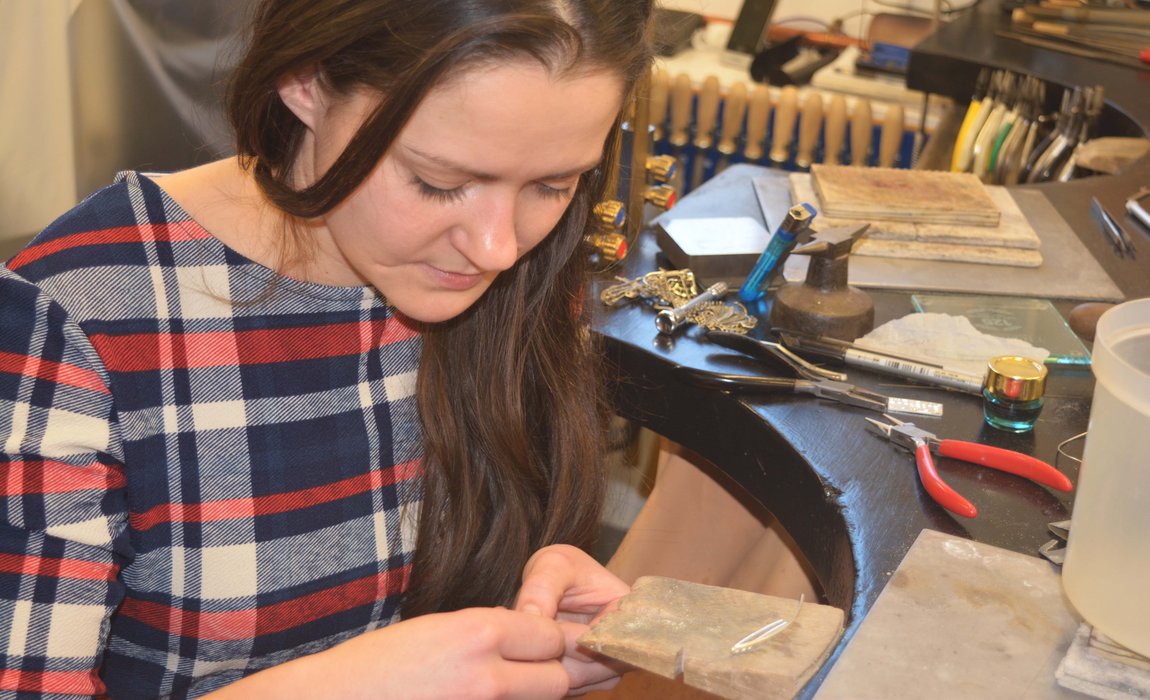 Last year, you were awarded the Precious Metal Bursary from the Goldsmiths' Company and you were talent spotted at New Designers by the Goldsmiths' Centre. How have these opportunities impacted your career?
The Precious Metal Bursary gave me an opportunity to challenge myself in a technical way. I applied for this competition with a design that I thought would be interesting, but I didn't think about how I would make it into a real object. It was a very complex piece and it pushed my boundaries as a maker.

This piece demonstrated to me I can be very precise in my techniques and go towards a bit more refined jewellery. It boosted my confidence and my interest in the trade. It has encouraged me to start thinking about life after university and making a collection that could be more precious metal based, easier to translate, smaller and a bit more wearable.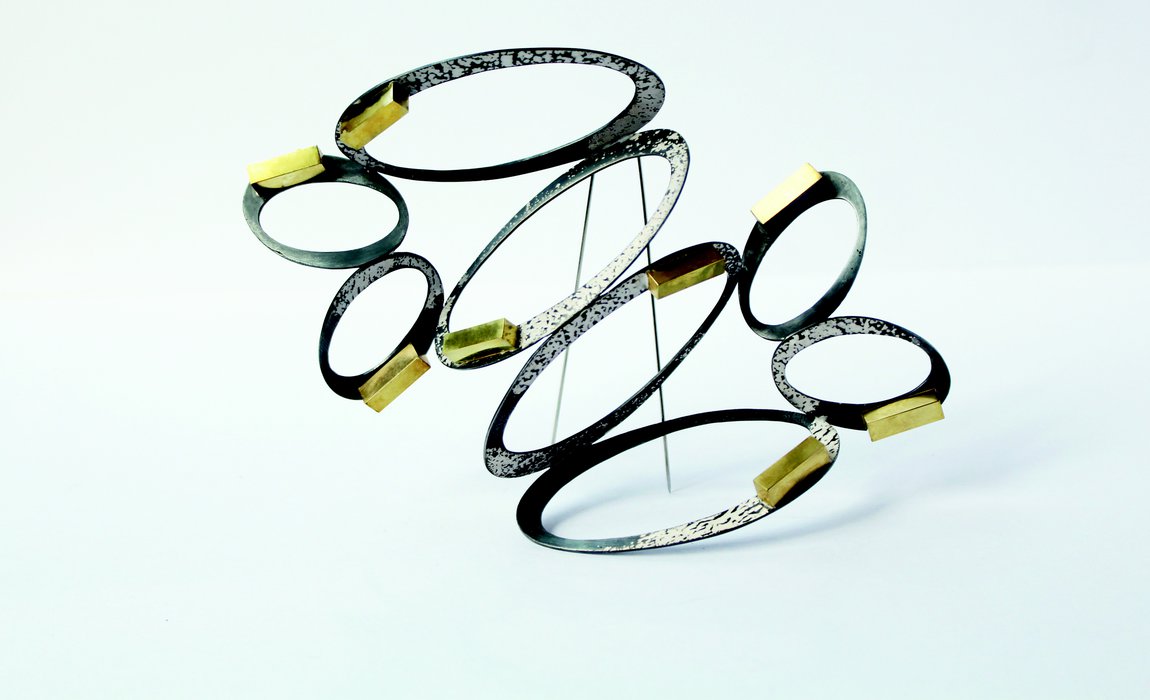 In your work you often explore the relationship between light and shadow. How does this translate into your collection?
The theme for my collection was finding beauty in everyday life. I was inspired by walking around cities, Glasgow and Leiden, Netherlands, because I was travelling between. I found beauty in the contrast between light and shadow reflected on the city landscape, on the walls, the pavements and all the patterns created and I started to imagine how this world would look on a sunny day if all the illuminated parts completely vanished and become transparent so you could just see a bit of shadow lingering around and changing.

That was the starting point of my collection. During my time as an exchange student in Japan, I started to explore material and techniques of engraving and layering, sort of playing with transparency. This encouraged me to choose acrylic as my base material. It is a light, strong and transparent material that has been very important for my creative practice so far. I like the interaction that it has with the skin and the clothes you are wearing.
 
What techniques do you use to create your pieces?
The main techniques that I use are both laser etching, which helps to translate the images directly to my work and laser cutting, to create the segments. Some of my pieces are made up of 800 small details, hand-drilled, hand-painted and weaved together to create the structure. For example, a piece has two contrasting colours. I use UV resin to do this, applying a very thin layer and then curing it using a UV light. I then remove the first layer and apply the next colour. In this way, it appears to be one colour with the contrasting colour highlighting the edges.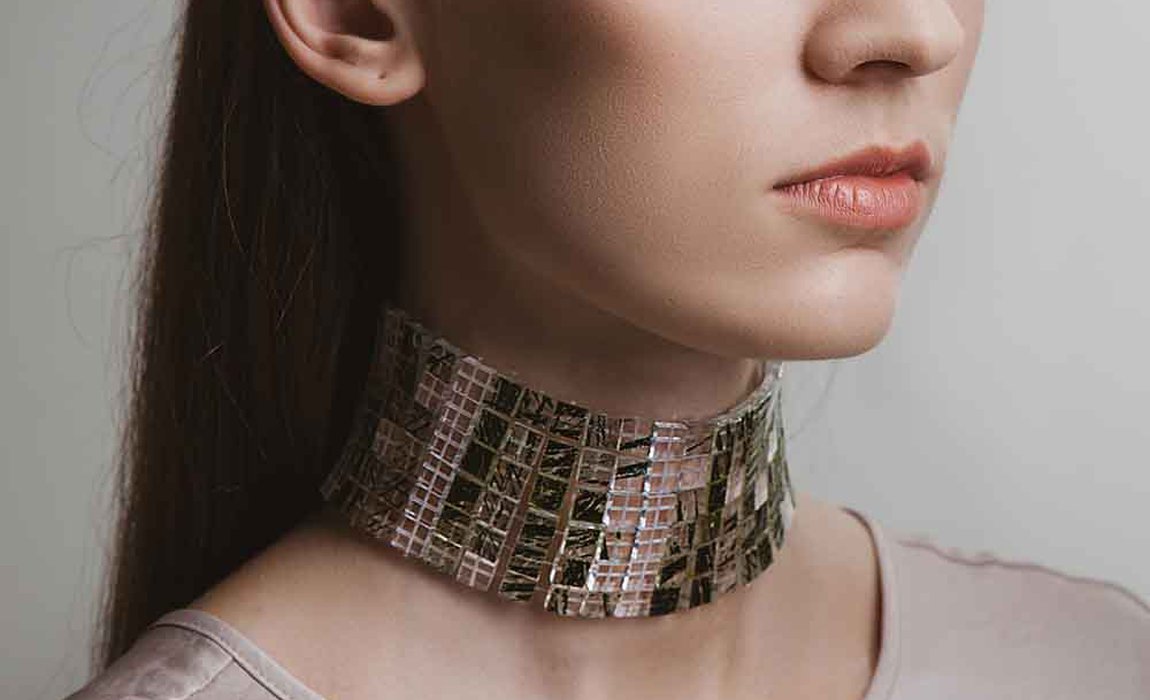 You were one of 30 selected for this year's Getting Started programme. How do you think this will help you develop your business in future?
I have so many notes from it, it was such an intensive week that moving forward, I am going to have unpack it bit by bit.  One of the key points I took away was that if I want to start to think about my own brand, how to market it, I need to go back and see who I am, what I want to show to the public and what language I want to use to do it. It gave me an understanding of how to apply it to every single part of marketing and brand and the research behind every single step you do. Starting a business is challenging but now I have at least an idea of how I could start approaching it.

Having just graduated, I had no idea how to do it. The key things each of the speakers were repeating was to keep positive, be persistent and never give up because it takes a long time to build up a small business.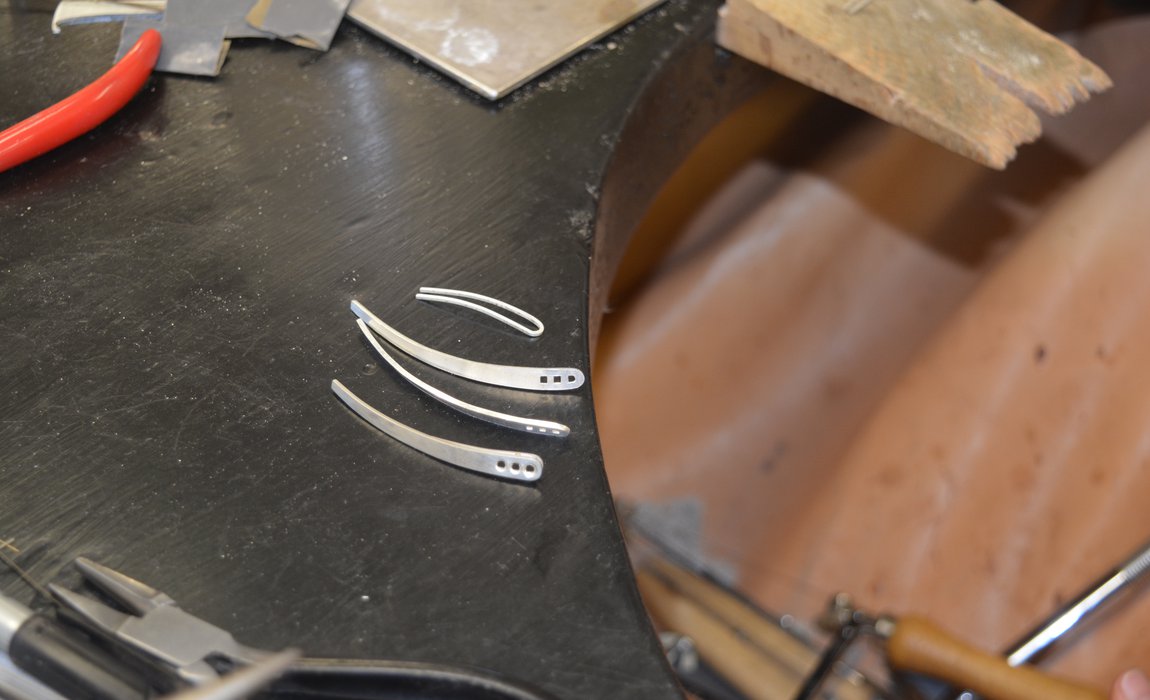 You are currently completing a week of work experience with resident craftsperson Paul York. What have you been doing and what have you learnt?
I've been learning the traditional diamond mounting technique of piercing out perfect holes for stone setting, this technique is new to me.  I haven't been engaged much with the fine jewellery, goldsmithing techniques, so this is something I would like to continue doing regardless of moving towards art jewellery or fine jewellery. It has opened a window for new possibilities and I am very excited about the future.

Overall, this has been the best week this year, even though it has just begun! I must go away and continue to perfect this new technique and find ways to bring new designs to fruition for the year to come. It has been a happy, challenging and interesting experience, Paul is amazing. He is very patient, friendly, encouraging and has a good sense of humour, I have been giggling all week and working hard.

These two weeks inspired me and gave me this necessary little push to not give up, to continue and explore new ideas.