Shine 2017: Jeweller Christine Johnson
Jeweller Christine Johnson is currently exhibiting in our annual selling showcase Shine 2017 at the Goldsmiths' Centre. In this interview, Christine talks about her journey into the industry, and how her visual research led her to create kinetic jewellery pieces.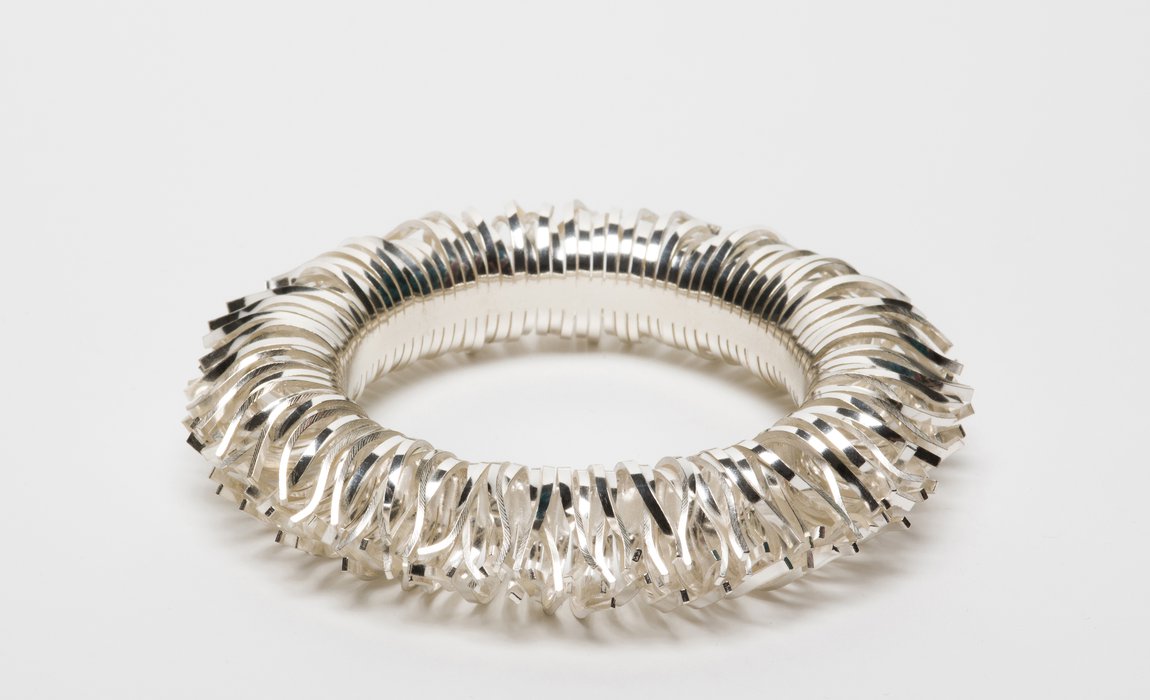 Hi Christine, thank you for joining me today. Could you tell me a little bit about yourself?
I recently graduated from the University for the Creative Arts, Farnham with an MA in Jewellery. I currently live on the Isle of Wight, and as well as designing and making my own pieces, I teach jewellery making in Surrey and Hampshire. 
Why did you decide to become a jeweller?
I arrived at this via a circuitous route. Having done Art and Craft at A Level, I went in a completely different direction and became a librarian. Although I enjoyed this career, it didn't give me time to make and be creative, which I had always wanted to do. I took the decision to leave the library world with a clear idea that I wanted to make jewellery. My father was an engineer and as a child I had been fascinated by his tools (not much has changed in this regard even today!). He showed me how to use a micrometer and vernier gauge when I was 6 years old. 
Shortly after leaving the library world, I took an evening class in jewellery and was fortunate in having an excellent teacher called Clara Vichy. I did this for 18 months and alongside my evening class, I went on short courses whenever I came up against a skill that my evening class didn't deal with. However, after a while, I felt that I wanted to further my practice and knowledge of design so I attended an Open Day at UCA and shortly after was accepted to study MA (Jewellery).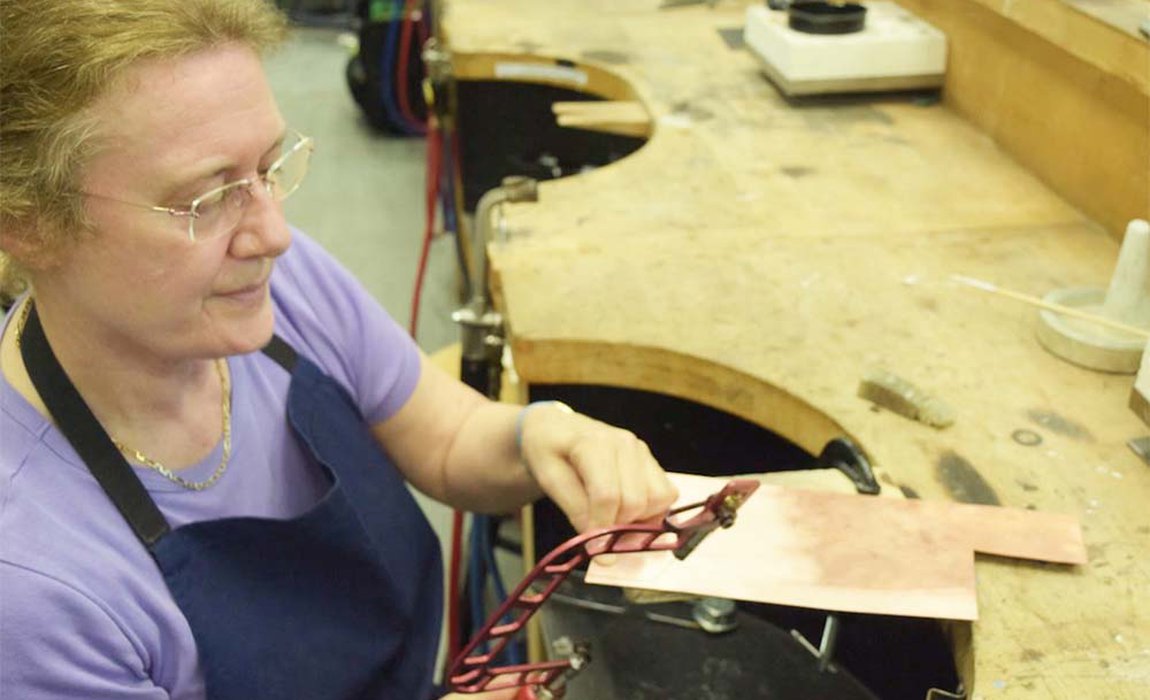 What motivates you to teach jewellery making?
Whilst I haven't been in the industry for long, I felt it was important to spend some time giving back by introducing others to this extremely enjoyable craft. I had so enjoyed the classes I attended that I wanted to teach in a similar environment. I took a teaching qualification at Brighton City College and (alongside working on my MA) I also taught jewellery for Surrey Adult Learning at Guildford, Farnham and Woking, and for 318 Ceramics at the Farnham Pottery. I have spent the last year as Artist-in-Residence at UCA and I am now teaching workshops at the Farnham Maltings and in Romsey. This allows me time to focus on my own work and have a balance between making and teaching.  Balance is important to me. I've always worked with a lot of people and I knew I would miss that interaction if I focused purely on making. I need to work with groups of people and also find ways to help them excel in this craft that I love.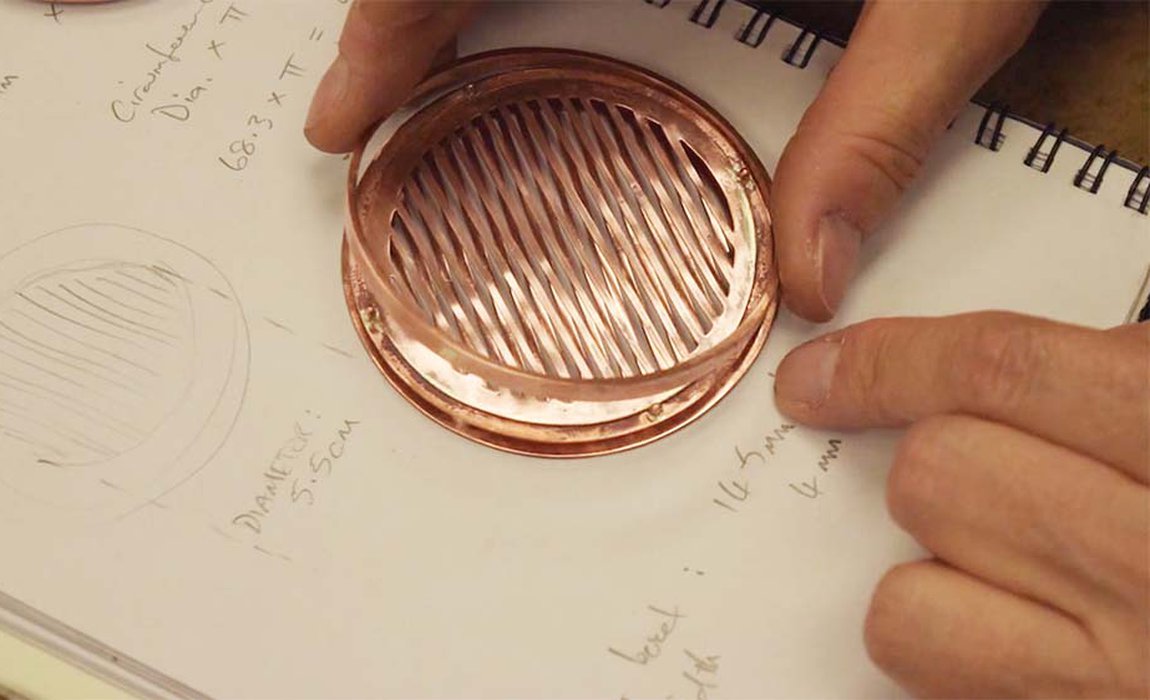 Your current collection is based on form and textures in feathers. Why has this been a source of inspiration for you and how does this present itself in your pieces?
As a student, my visual research had included many objects and shapes in nature. One day I picked up a feather from the ground. I was struck by it: the central spine with tiny little lines coming out from it made me start thinking about translating all of these elements into metal. Repetition and pattern seem to be present in most of my designs and the feather moved me towards lines and spines. I found the patterns I could create were fascinating and led me to incorporate visual effects in my work.
I became interested in interference patterns which create an optical effect (moiré) when lines cross. There are also interference colours as seen in the eye of a peacock feather which is a bit like a hologram. I wasn't so focussed on colour at that point. I was more interested in interference patterns and the effect they can create. From this research, I made pieces with multiple lines meeting so that a moiré effect is seen when the piece is moved or when the viewer changes position in relation to the piece. Visually, this gives a perception of another set of lines and patterns and causes an optical illusion or visual effect. 
I liked the idea of the wearer controlling the effect and I began to work on kinetic pieces. I wanted to create a piece with a moveable element so that the optical effect could be controlled. I began by making a pendant with lines crossing lines and with internal mechanisms allowing movement, so that an optical effect can be created at will by the wearer of the piece. The optical effect is caused by the interference patterns created when lines cross over one another. This is why I call my collections 'Crossings'.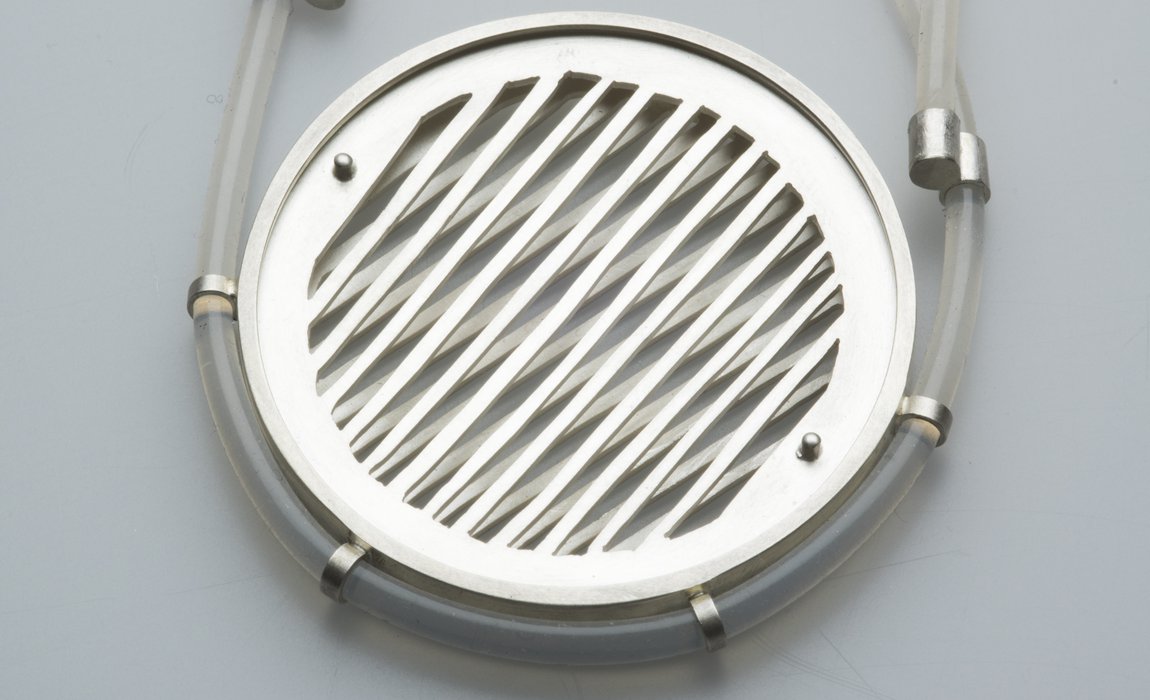 What techniques do you use to produce your pieces?
All my work is handmade. I use common techniques like piercing, forming, soldering and finishing.
In terms of the design, it's usually something that I imagine. Usually, I know how it will look and what it will do before I begin making. A lot of the time I use copper to try out new designs and see how they work, so it's really a three-dimensional drawing rather than a pencil drawing. My pencil drawings are mostly to do with measurements. Once the prototype is successful, I then make in silver which is a very nice metal to work with, as it is springy and has integrity with these particular designs. 
Each design leads on from the previous one but with different elements. Everything is constantly evolving.
Who do you think would be most drawn to this collection?
A variety of people seem to be drawn to my work, especially those with an awareness of and an interest in visual effects, for example anyone who is interested in items that aren't simply decorative but also offer an element one can interact with. But it's a hard question to answer. It will be interesting to see, and something that I can learn from.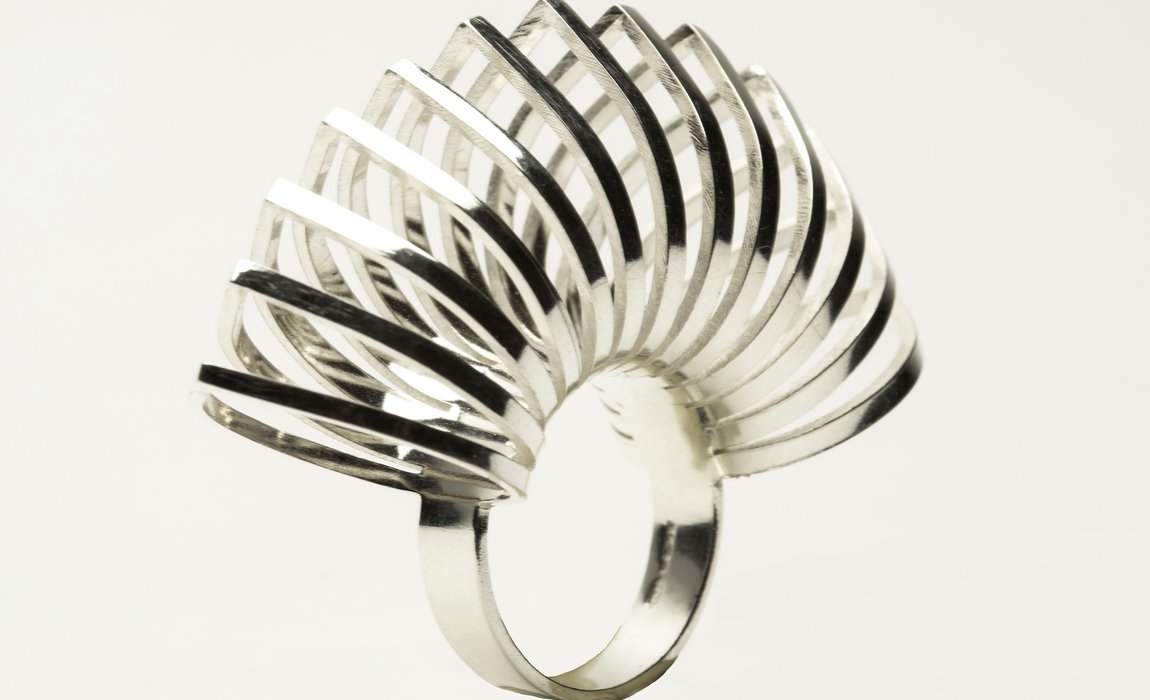 You have exhibited in various exhibitions including; Makers at Menier at the Menier Gallery, Top Drawer at Kensington Olympia and Designer Crafts at the Mall. What's next for your business?
Right now I'm focussing on my studio and getting that set up. I've been fortunate in having had very good workshops to work in until now. I have the equipment that I need so now it's a matter of organising my new studio. It's a new phase and I'm keen to see what happens next.
The next thing for me is 'Shine'. I'm very excited about it and I look forward to seeing how it works out. I think it will be a new audience for me because until now I have exhibited with artists involved in a variety of crafts such as glass, ceramics and textiles, with perhaps only one or a few jewellers. 'Shine' is different because it's a jewellery exhibition and visitors will be expecting to see jewellery exhibited rather than items from a variety of disciplines.