An Interview with Asprey's First Female Apprentice, Sophie Chapman
This week, we were delighted to talk to another Foundation Programme alumna off to a promising start in the industry. Since graduating, Sophie Chapman has gained a GC&DC award and has made history at Luxury London brand, Asprey, as their first female Goldsmiths' Company apprentice.
Can you tell us a bit about your journey into the industry?
I did my A-levels and an Art Foundation course after finishing school, as I really struggled choosing what pathway I wanted to take. I didn't know anyone in a creative industry, so I kept an open mind and did lots of work experience and university visits. During my work experience, a girl recommended the Goldsmiths' Company for creative jobs and apprenticeships and through that I found the Foundation Programme, which is luckily up to age 19 so I could still apply.
What does an average day look like for you at Asprey?
No two days are the same, work comes in and out so quickly. Normally when I get in at 8AM, my master has left jobs on my bench to complete, with supervision from my trainer. Each of these has different deadlines to get to the polishers, so I'm taught to manage my own time efficiently. At the moment we have a large trophy order, so I've been doing smaller pieces for that. When I get free time with my trainer, I get given a project from the archive of old stock work and we work through it together to learn traditional skills, such as box making and raising. Asprey give me a day a week engraving also, which is such a useful skill for a silversmith.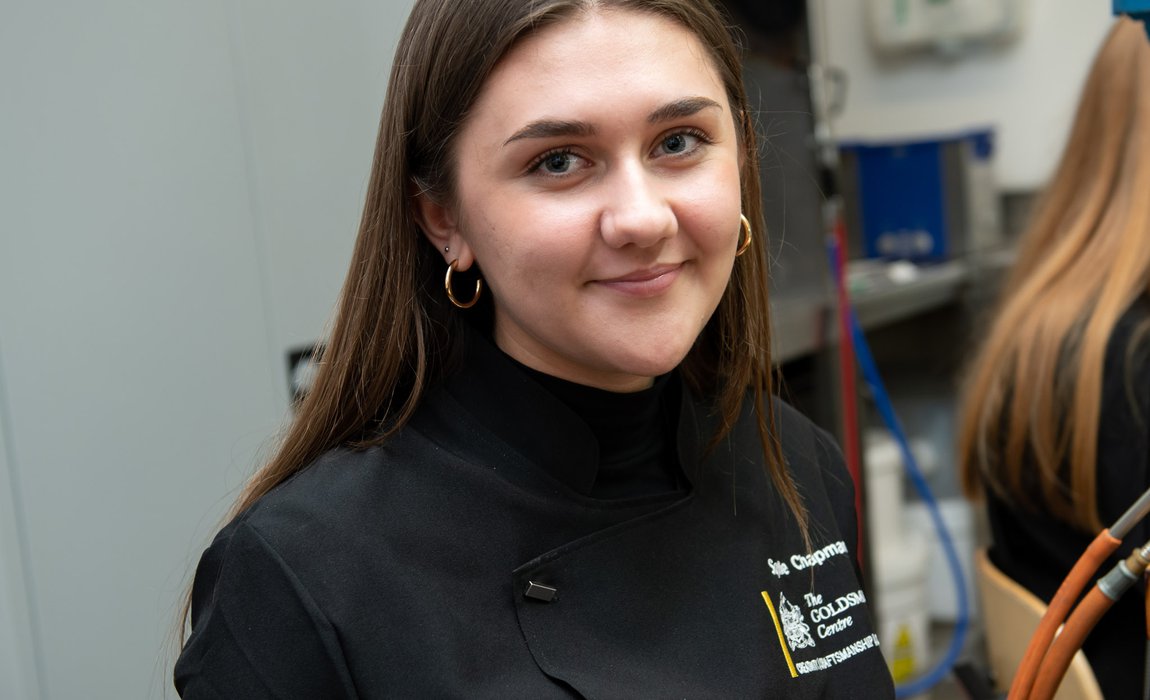 Of all the specialisms you studied whilst on the Foundation Programme, why were you most drawn to silversmithing?
I loved learning a variety of different skills on the Foundation Programme and struggled to narrow it down to only one specialism, which is why I chose silversmithing - it's so varied in the sort of work you can do, it covers all scales; you could be making something tiny in smallwork like a pill box, or working on a huge trophy. I also love the working process and the challenge of turning flat silver and a 2D design into 3D.
What does being Asprey's first female apprentice mean to you?
It's about time! We need more girls in the industry, it's very daunting to put yourself out there especially in workshops like mine, and to use all the big machinery. But everyone is so passionate about what they do and they want to share their skills with you, that nobody treats you any differently. It's not as intimidating as it first seems. The people at Asprey made me feel comfortable in the workshop as soon as I started.
What's the most important part of your day as a silversmithing apprentice?
The most important parts of the day as an apprentice are getting there on time, remembering your tea run and always showing willingness to help out and learn. My days vary so much that it's just important to always get stuck into the work and try everything. I am always being told that making mistakes is how you learn, so not to be afraid of trying anything.
Does the reality differ from your expectations - and if so, how?
I did my work experience here in February as part of the Foundation Pogramme and so already knew what I was letting myself in for. It's exactly what I thought it was going to be, a lot of work, fast-paced, an exciting environment. The Goldsmiths' Centre really builds up a network of all their current and previous apprentices, so I could talk to Aspreys' current apprentice about what it's like to work there and that was really helpful.
Why do you think it's so important to keep the trade alive?
Watching a master work you'll see how much of an art it is. It takes years of training to develop the skills needed to be a good silversmith and it would be such a shame if that industry disappeared, though I very much doubt it will.