In conversation with Setting Out participant Jessica Pass
Jessica Pass creates intricate pieces inspired by the unseen. In 2018 we caught up with the emerging maker to find out about the inspiration behind her 'Curios' collection, why she thinks Setting Out is necessary for recent graduates and how she prepared for her Goldsmiths' Fair debut.
Hi Jessica, thanks for joining us. Could you tell us a bit about your journey into the jewellery industry?
I was always creative when I was at school, so when I finished, I did an Art Foundation year at Oxford Brookes University. My tutor was a glass sculptor, who knew a jeweller who had a workshop in a barn just outside of Oxford. So, for the year I was there I ended up renting a bench space in her jewellery workshop and taking evening jewellery classes with her. Learning how to make jewellery for a year was amazing. I would shadow her or I would design things and she would show me the techniques that I would need in order to make them. 

From there, I applied to go to Central Saint Martins (CSM), and started with a good basic set of jewellery skills. I did a 3-year Jewellery degree at CSM which was great, but ending that I didn't really feel ready to set up on my own. I knew I was on the right path and wanted to set up my own business but didn't have the tools to do so yet. 

I applied to go to the Royal College of Art (RCA) and did a Jewellery & Metal Masters there for two years. By the end of my MA, I felt a lot more confident in terms of my style and my collection and which area of the jewellery industry I wanted to go into. So, I turned my attention to my business skills which were lacking. I think it's fantastic that the Goldsmiths' Centre has set up this kind of facility to help young jewellers who are coming out of education with no business skills.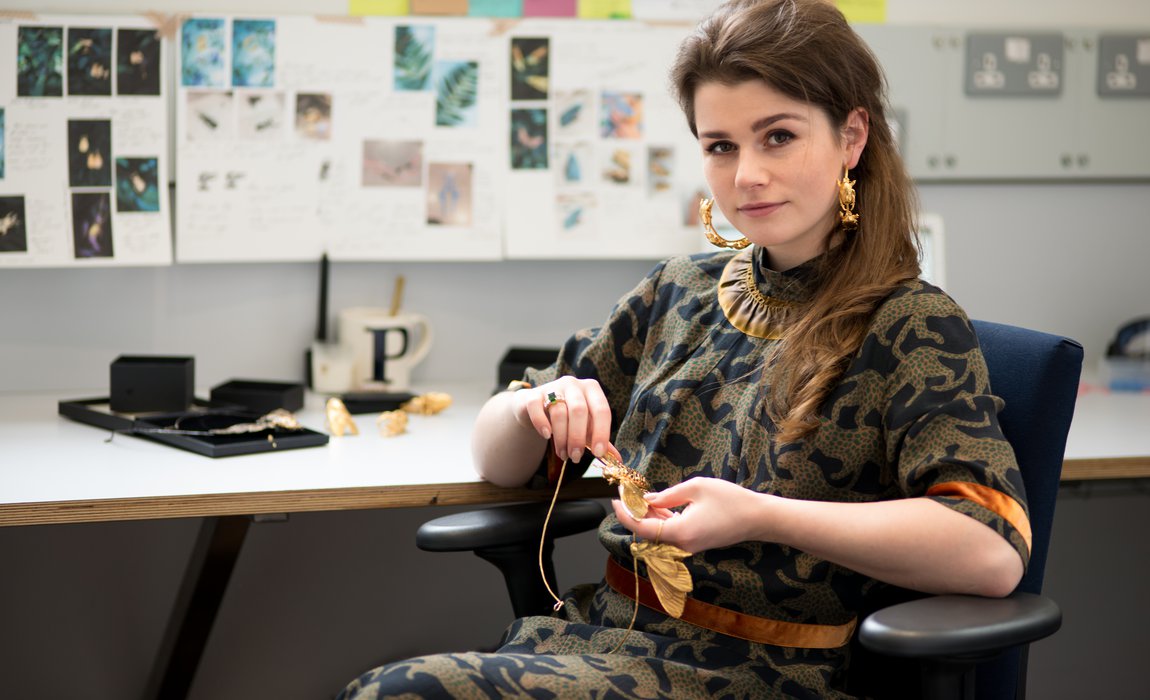 You create distinct pieces in the shape of insects. Why is this a source of inspiration for your work and how have you adapted it for your collection?
I have always been fascinated by the idea of the unseen. A lot of the pieces I created on the Foundation course were hinged opening pieces with the idea of something hidden on the inside. I was making very linear minimal looking lockets, and on the inside, there were raw encrusted stones. 

My most recent collection is very much a combination of that and my obsession with the natural world. I've always collected entomology frames and been fascinated by the idea of cabinets of curiosities and hidden secrets. It is a whole coming together of all my little obsessions – the collection started with the Cicada neckpieces that open and have hidden secrets inside. 

All the pieces in my high-end collection, which is called 'Curios', hinge open to reveal gemstones and pearls. One of my main showpieces, the black ruthenium Cicada Neckpiece, has a large golden beryl on the inside, set within the limbs of a miniature figure. 

One of my favourite pieces, which I have now sold, is my large Chalcosoma Cocktail Ring in black ruthenium and gold. It is completely matte black and smooth on the outside and highly polished gold on the inside. The inside is set with a black pearl against the gold, so quite plain and realistic on the outside with surprise bling on the inside!  

Alongside my Curios collection, I am developing a more affordable range with the same theme. The pieces are more high-end fashion, for example large hoops covered in beetles. I hope these pieces will appeal to a younger audience, and then I've got my high-end range, which is bespoke fine jewellery.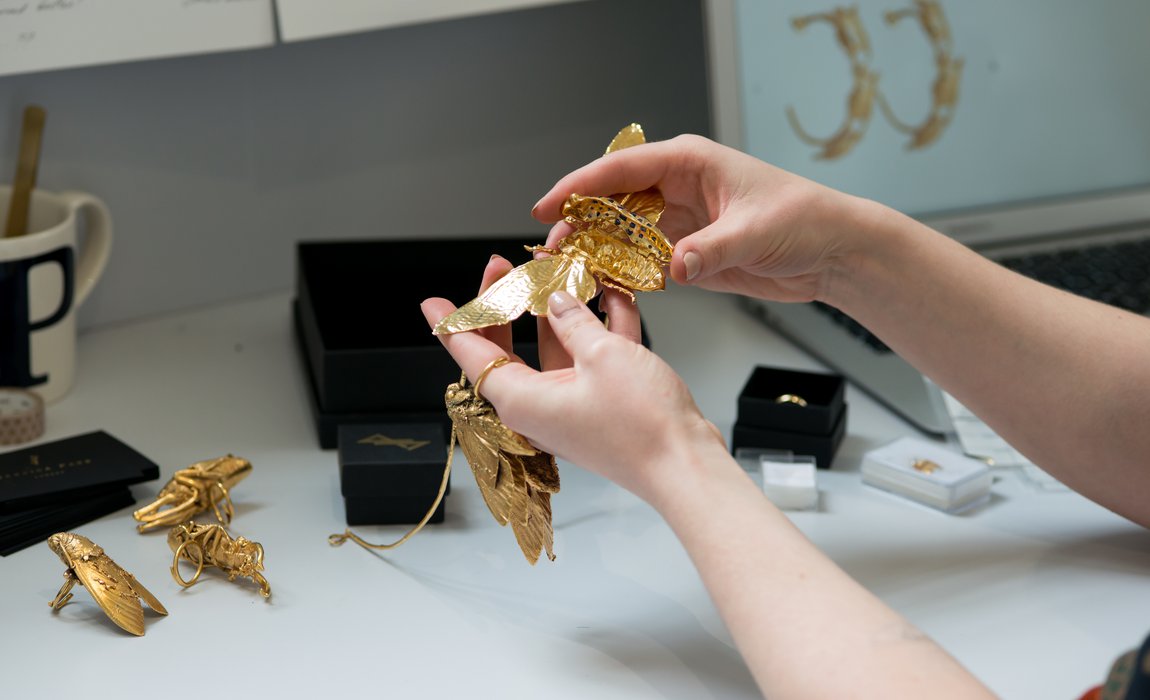 You are currently completing a year of Setting Out. How has this impacted your business so far?
It has got my head in the game. I came onto the course with an understanding of how much I was taking on, I knew it would be a huge workload. Starting a jewellery business is a significant risk, so everything we do now has to be very calculated so we're minimising those risks.
What are your ambitions for your business once you have completed the course?
Goldsmiths' Fair is the only thing I have committed to now in terms of sales so I will do this as a first step and see how it goes. I want to apply to do New Gen and Paris Fashion Week next September, for my fashion pieces. 

In 5 years I would hope that I would have at least 10 stockists. I would also hope that I would be able to rent a workshop at the Goldsmiths' Centre and work from there. I am learning that you can't do everything on your own. My main energy needs to focus on re-designing, prototyping and editing. Ideally, I need to be able to employ someone to help with all that. I would need a workshop in the centre because my workspace at home is fairly small. 
 
You were recently selected for a Graduate Stand at Goldsmiths' Fair. How have you been preparing for your Fair debut?
Goldsmiths' Fair was the first thing that opened my eyes to the fact that this kind of jewellery even exists. I went there when I was quite young. The only high-end jewellery I was aware of before this was the jewellery you see on bond street. It's completely different meeting the makers, seeing their contemporary fine jewellery and hearing their story. I went around chatting to all of them and they were all willing to talk to me about their life and where they studied and that really influenced my journey. 

In terms of prepping for Goldsmiths' Fair, I am a bit different to the others here on the Setting Out Programme, I am the youngest person here. I left RCA last summer so I've had no time out from education. I haven't been selling yet so I don't have an idea which pieces will be my bestsellers. It will be my first experience of selling in this way so it is the first test for me. The Fair is great for so many people, for emerging makers to find their place in the industry and meet buyers and collectors. I have set my heart on it for a long time.

As well as completing my year on Setting Out, I am re-designing, coding and stripping back the website. I am working on preparing the online shop so I have that all up and running in time for the Fair. I am making some new pieces, new ideas, which are one of a kind high-end pieces. Also, I'm making stock, as I want people to be able to take some pieces away then and there.  

Right now, I am using social media and the response I get on there to assess which pieces are going to be the most popular. I am trying to get the word out about the Goldsmiths' Fair to my Instagram audience.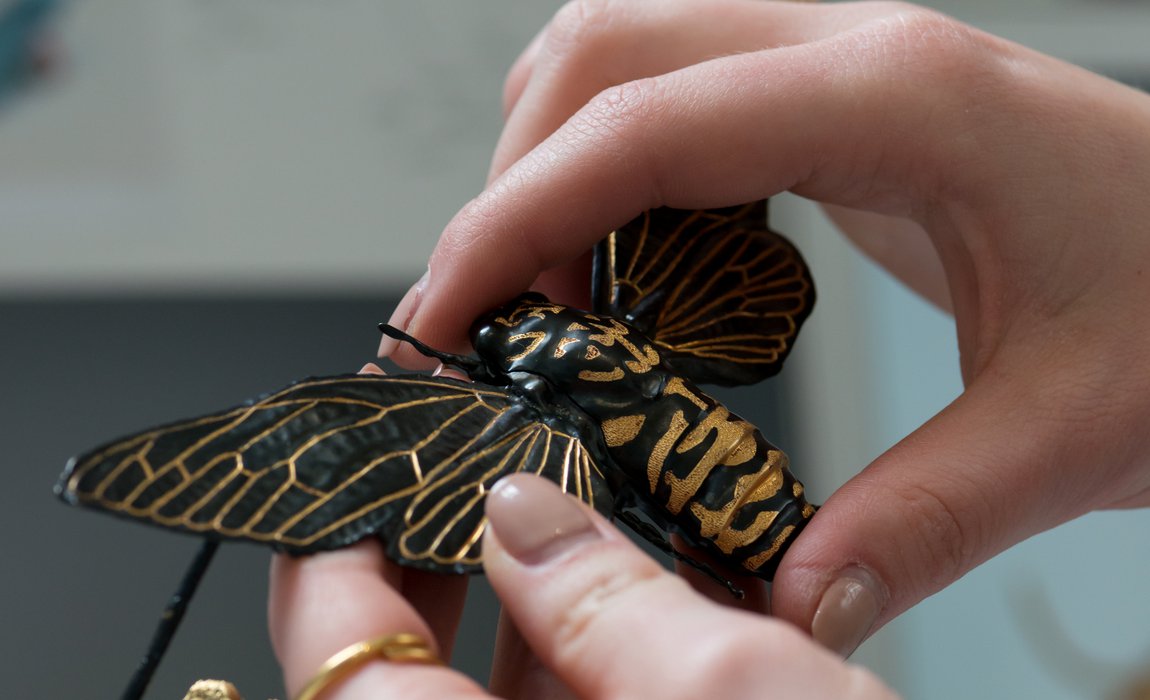 Why do you think emerging makers should apply for Setting Out?
It is completely essential. I was aware of the things that you needed to prepare for before doing the course, but what you don't realise is there is so much more to running a business. There are so many levels to each part, so many things you need to prepare; my eyes have been opened to it now. 

Delegation is important, each one of these things that we are working on is a full-time job. If you are going to do this successfully and it actually takes off you need to be able to employ help! At the moment I'm doing many jobs as a one-man team and none of them terribly well as a result! As soon as I can afford it, I will employ someone to help. Cash flow of course is also key. 

What's more, when preparing for Goldsmiths' Fair and doing this course, you can't do it if you don't have the funds. You can't come into this venture as a fresh graduate in debt from student loans and no one backing you. If you are going to do this course and launch a business successfully, you need an investor, someone sponsoring you or a loan to get things off the ground when you launch. The prototyping and the cost of the moulds, the testing and the 3D prints, the gemstones, the packaging, website design etc. it all costs so much. So many things add up and you cannot go on this journey unless you have sorted out how you are going to back yourself. You won't be able to pull it off. 

Finally, I would advise against doing this course if you are not yet certain that this is what you want to do. This course is a huge commitment, with a huge workload. I would say it's the workload of prepping for a degree show doubled (for any jewellery students out there)! It's a very intense year, and it's hard to juggle work and commissions at the same time. There are those that have managed to juggled work, but you'll get the most out of it if you can slightly put that on the back burner for a while and shift your focus onto re-branding and re-launching. It is so worth doing and completely essential. If I hadn't had this structure this year I wouldn't have achieved so much. 

Word of mouth is how I found out about the Setting Out Programme. Vicky Lew, who I was at Central Saint Martins with pointed me in the right direction. I have been telling people about it in the years below me at the Royal College of Art. The jewellery world is small! We're all connected somehow. 
Interested in applying for Setting Out? Find Out more.