Talent spotted: Jessica Jue
Talent-spotted jeweller and silversmith Jessica Jue undertook a week of work experience with resident craftsperson Clive Burr. We caught up with Jessica about her inspirations, what it was like to be a part Getting Started 2017 and being selected for Goldsmiths' Fair in 2017.
Hi Jessica, thank you for joining us here at the Goldsmiths' Centre. Could you tell us a little bit about yourself?
Since finishing my one-year residential course at Bishopsland in August 2017, I have moved to London. Being here, I have had quite a bit of help from people like Angela Cork who I shared a workshop with for a while. Right now, I am renting a bench from Howard Fenn the Silversmith and it's been good because I have access to guidance and support. 
I first got into the industry because I wanted to study something arts and crafts-related back in my foundation year and I picked jewellery because I thought that I would get a lot out of it in terms of learning different techniques. Also, my father once attempted to start a jewellery business so he was very excited when I decided to try it myself. 
 
In 2017, you were selected for Goldsmiths' Fair Graduate Bursary Scheme and exhibited there in September. What did you gain from this experience?
It was a great experience. It was the first real exhibition, real platform where I could show my work and be exposed to so many people - I gained all sorts of opportunities. Ultimately, it was a chance to interact with clients and there was a lot of interest in my work so it boosted my confidence.  Goldsmiths' Fair was the first instance where I felt certain that I wanted to pursue this path just because of the positive responses I received. As it was the first time I had done such a prestigious selling event I was quite nervous but working with Angela provided me with the support I needed to prepare.
What's more, I was part of the graduate scheme so The Goldsmiths' Company provided me with some business support with topics such as how to price your work, and how to interact with clients and on top of that they gave me a bursary and a loan which was a massive help.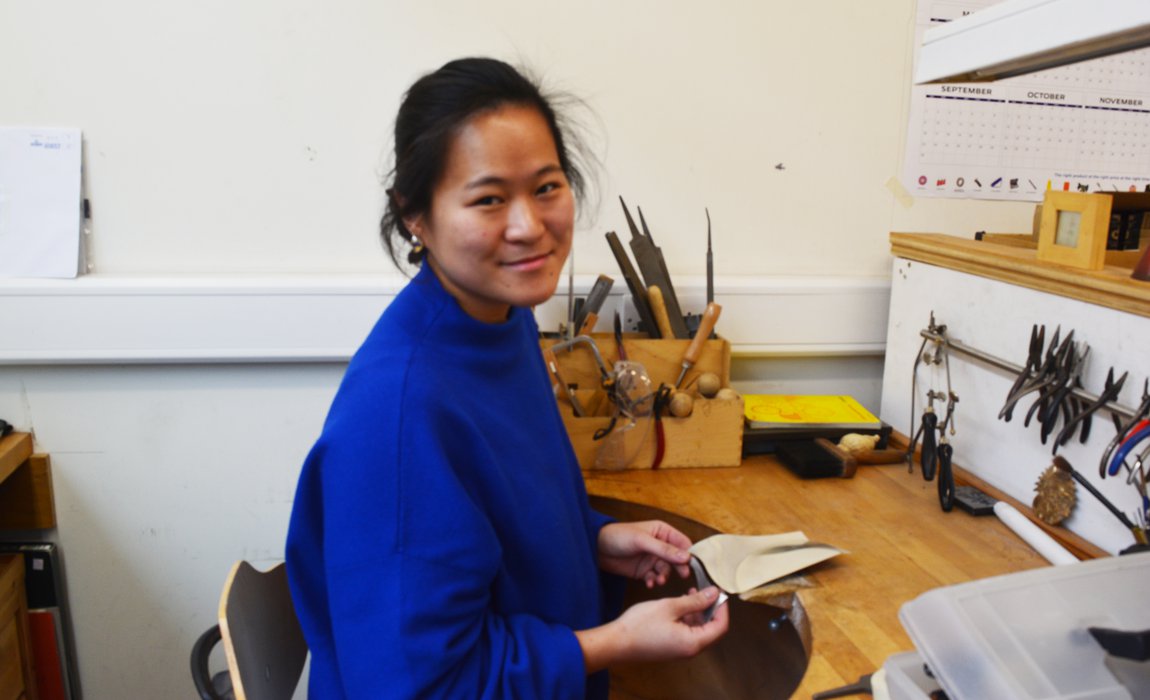 You also did Getting Started in 2017 at the Goldsmiths' Centre. How has this helped within your practice?
It's been really helpful, I keep referring back to the notes from that week, especially when I was preparing for the fair. It was an intensive week and taught us everything; from interacting with clients to retailers, how to price your work, how to talk about your work. I would say that it's not something you can get anywhere else very easily. 
You create both jewellery and silverware pieces in interesting shapes, can you tell us the inspiration behind your work?
The inspiration has a lot to do with organic forms. I'm very much interested in the form and fluidity of plants, particularly carnivorous plants. I looked at them a lot when I first started so my work developed into something more sculptural. Now, regardless of whether I am making jewellery or silverware I incorporate the sculptural and fluid forms. 
 
I work with all sorts of materials from metals to clay and the form just naturally builds up. To develop my pieces, I would start with a 3D form and if I need to, I would sketch from it - design through making is my general process. Over time, my idea shifts and develops into a form without really putting much consciousness into it, it is very innate.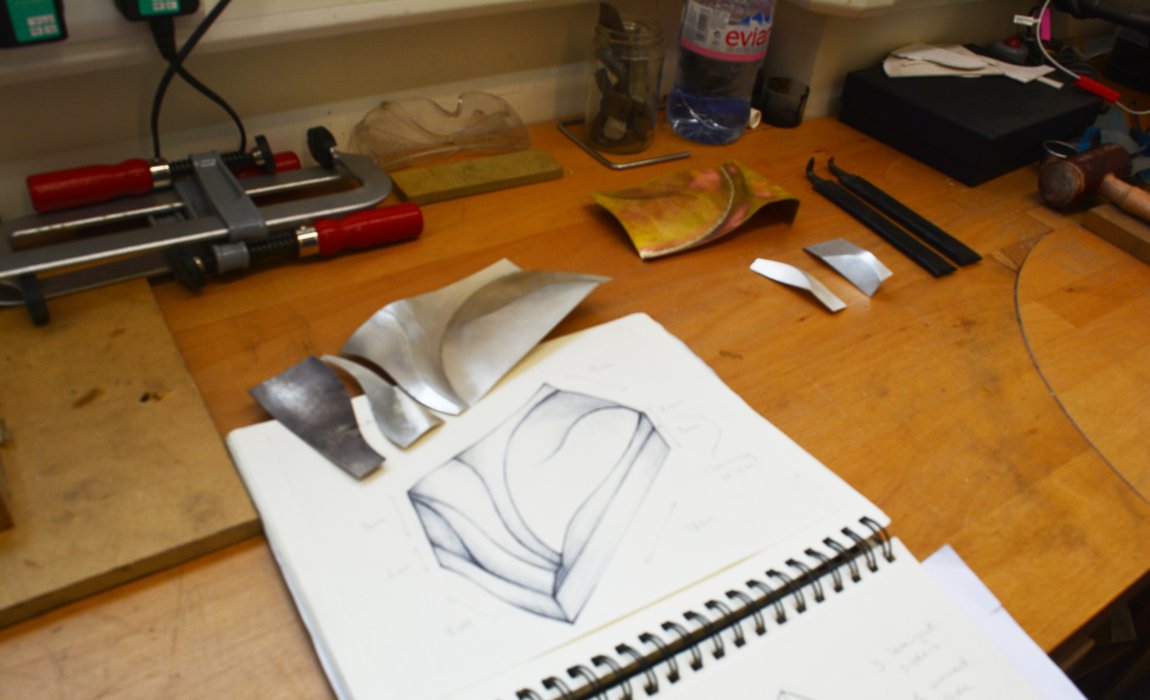 You are currently completing a week of work experience with resident craftsperson Clive Burr as part of a Goldsmiths' Master Craftsman Internship. What have you been doing and how will you use this experience in the future?
This experience has been brilliant. I am attempting to make a box which is not something I have ever done before, just because I am not a very precise worker. A lot of my work is organic so it's been a real challenge for me in that we are learning a lot of techniques that require more meticulousness. This week with Clive has really helped me push that further. These are techniques that I would like to introduce to my previous work. The organic forms have a combination of geometric shapes and somehow fuse into one and develop into something new. So that is going to be of great help to me. 
Clive has been very patient with me, I'm a very slow learner so that has been helpful! He's the kind of person that doesn't necessarily show you everything step-by-step but he makes sure you understand what you are doing and that you think ahead instead of jumping into doing something the way I do. He makes sure that I understand that I need to think about the next few steps before I start something new or start a new technique because it reduces work when you don't mess up. In the future, I want to continue what I have been learning this week and perfect that.  
I am looking forward to applying for Setting Out next, just lots of opportunities in general. I am looking to learn more and expand my skills and techniques as well as exhibiting in more fairs. But in general, just hoping to continue my business and learning.