Christine Johnson on making the 'Juniper Bubble Beaker'
Jeweller and Getting Started alumna Christine Johnson chatted to us this week about her foray into silversmithing for Made for the Table, to striking results in the Juniper Bubble Beaker.
What inspired you to become a silversmith?
The answer to that is that I'm not a silversmith! I'm a jeweller and used to working on a smaller scale, though my work is often quite complicated and sculptural, involving a lot of mechanisms and moving parts. I initially had a career in an altogether different field but felt an urge to start making again and managed to escape it. 
So what inspired you to create a beaker for Made for the Table?
I was tremendously excited and honoured to be asked to submit to the exhibition, considering I'm a jeweller. But the beaker seemed enormous to me. I thought, "I'm not a silversmith!", and was convinced I wouldn't be able to do it. 

However, I'd done the week-long Getting Started course at the Goldsmiths' Centre in January and having created larger pieces for the associated Shine and Getting Started exhibitions, I'd begun wondering whether I might be able to cope with working on a bigger scale. Then a couple of days before the deadline, I received a reminder from Charlotte Dew at the Centre, and I just decided there was nothing to lose by applying. The next thing I knew, the Goldsmiths' Centre had come back with a yes!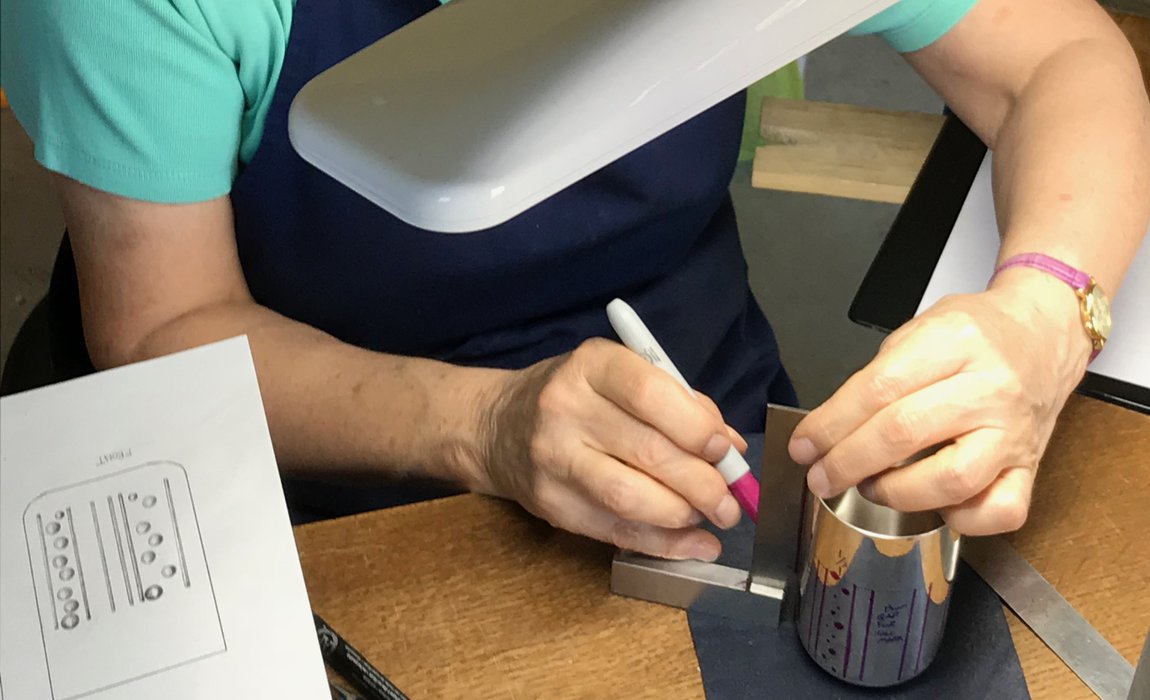 So was creating the beaker a big challenge for you?
Yes! But it was also very interesting, an exceptional learning project for me. In the end, I decided to outsource some of the work on my spun beaker, but approaching silversmithing companies and tradespeople to find the right person to carry out my designs was an enlightening experience. I hit a brick wall initially as the first two companies I contacted, were just too expensive. Feeling fairly desperate at that point, I thought back to what I'd learned during the Getting Started course. Our group had a guest speaker called Martyn Pugh, a silversmith from the Midlands, and he said that if we ever had any questions we could contact him, so I did. He was so helpful, and put me in touch with a silversmith in Birmingham who said he could do the work within the allotted timescale - which had been getting shorter during all of this research! 

This process - approaching different companies and people, discussing the work and getting their take, and finally finding a solution through Martyn Pugh - was really terrific, and it was so satisfying to get the beaker back just as I'd designed it. 
 
How would you describe your particular design style?
During my Jewellery MA at UCA Farnham, I did a lot of experimentation and visual research. Having come from an entirely different working background, discovering my design style was like learning a new language for me. I quickly discovered that I'm attracted to repetition and pattern, and particularly interested in optical illusion and optical effects. One day when trying to think of a basis for my designs, I picked up a feather, and as I was examining the fine lines and the spine on this feather, I found I was inspired. 

It was such a simple thing and may seem frivolous to some who draw from a deeper place to create, but this feather appealed to me on a very visual level. The lines crossing each other, and the light and the shade that these created had a natural moiré effect, a classic interference pattern. I wanted to include those elements of repetition and pattern in my work in an abstract way - creating a piece of jewellery based on a feather but not immediately recognisable as one. From there, I decided it would be wonderful to give the wearer control of that moiré effect so I began working on introducing moving pieces in my jewellery, and mechanisms. This same style does apply to the beaker in a sense, in the vertical lines that I've used. The larger bubbles represent Juniper berries, and the smaller bubbles represent the fizz.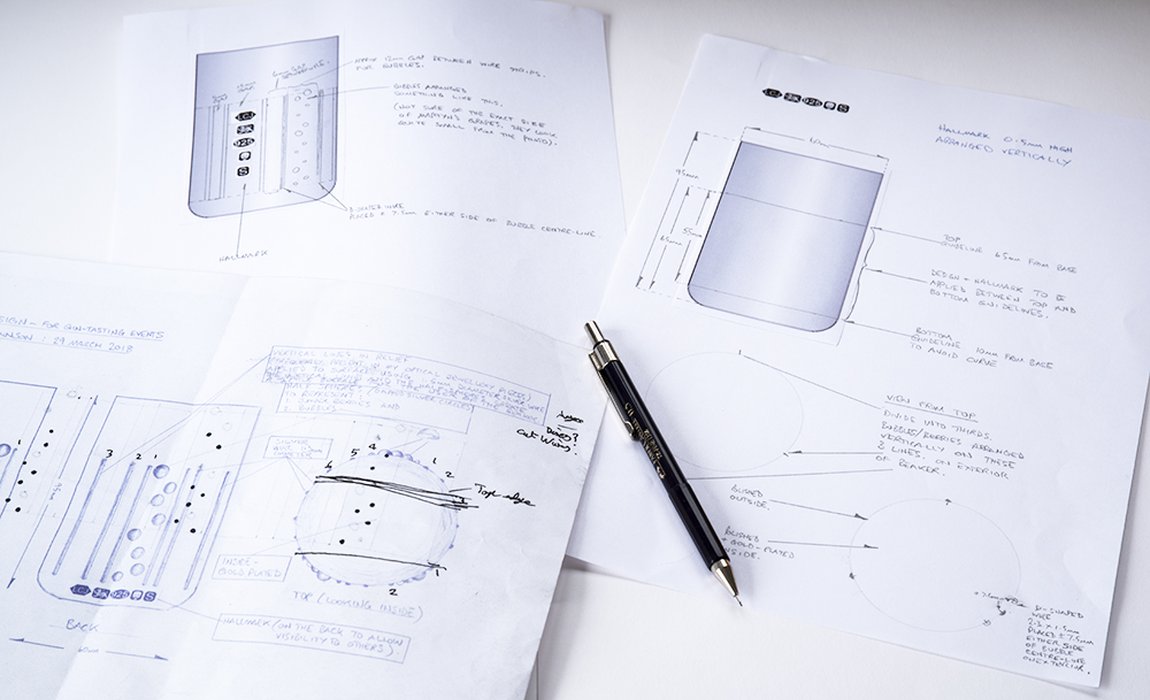 What's your favourite thing about working for commission?
The adventure of a new approach. I love the challenge of achieving something that I don't know how to do. Even failing at something initially becomes a positive thing, because you work a way round it, which was particularly true of the beaker of course. I also like creating something that's partly dictated by the commission itself and partly by your own response to it. It's a collaboration, a shared thing - there's a part of you in the pieces you create for clients.
How was the theme of Old and New represented in your beaker?
I leaned towards the new, but there is plenty of old involved too - with all of the beakers, you could say that the old is in the techniques that are used to create them, as some of those techniques have been used for centuries. The Made for the Table exhibition has really made me realise the huge contrast between the older pieces - from, say, the 16th or 17th century - and the contemporary pieces. It's amazing, and the beakers are all absolutely stunning.
Do you agree that 'Gin tastes better in Silver'?
Well, I'm actually allergic to alcohol, but almost everything is better out of silver, even food! With a bubbly drink like Gin and Tonic in a silver beaker, with the reflections of the bubbles and so on, it must be a very special, visual experience. You don't get that with glass.
How has the Goldsmiths' Centre impacted your career so far?
The Centre has impacted me enormously. I've found it to be the most tremendously supportive community. At university, there isn't a lot of time to cover the business side of making, so devoting a week to it for Getting Started, which touches on things like pricing, Internet promotion, marketing and professional presentation, was just so valuable. I now feel that what Martyn said during his Getting Started talk - 'never turn a commission down' - was entirely correct, as I know that even something beyond my own expertise is possible when the support is there. You can always find someone to help you with a piece, even if they only do part of it. It's made me realise I've got to start applying more, and that's what pushed me to go for not only Made for the Table but many other opportunities: I have taken part in the West Dean Arts and Crafts Festival, an exhibition at the Chelsea College of Arts (for which I won a Society of Designer Craftsmen Prize), New Designers One Year In, Dazzle London Jewellery exhibition, and have been accepted for the SIERAAD International Jewellery Fair in Amsterdam. In addition, I have just heard that I am a finalist in Enjoia't, the International Art Jewellery Awards in Barcelona, which takes place at the end of the Barcelona Jewellery week on 6 October.

All of this has happened as a direct result of being involved with the Goldsmiths' Centre. I suddenly felt that I had this amazing support system and that if I came up against a full stop, there was somewhere I could go to ask. I also found that the Goldsmiths' Centre Getting Started week was incredible - both for the amount of information I received and for the tremendous confidence-boost I felt.