Meet Russian Born Jewellery Designer Evgeniia Balashova
Born in Russia and based in Glasgow, jewellery designer Evgeniia Balashova focuses her work on the repetitive features found in an office environment – from stationary, computer hardware to furniture. Her unique style combines traditional metalworking techniques with rapid prototyping and heavy machinery. She uses these techniques to morph and distort the grid-like elements of her jewellery into organic shapes, which reflects how the office space is disturbed through human intervention.
What does being selected for New Designers: One Year On mean to you?
After graduating in the summer 2016 I exhibited at New Designers with my first collection. It was an incredible experience and it was the first big exposure of my work to the public. Seeing my work in an exhibition context and being in a space full of other makers and visitors was invaluable in terms of shaping my confidence to proudly show my work and talk about it. This experience has really pushed me to develop my work further in order to have a chance to be a part of the show again. I believe that at this early stage in my career, being at One Year On will be a great opportunity to meet like-minded people, creative professionals, potential employers and customers. I think One Year One will be the next big step in shaping my future as a creative business.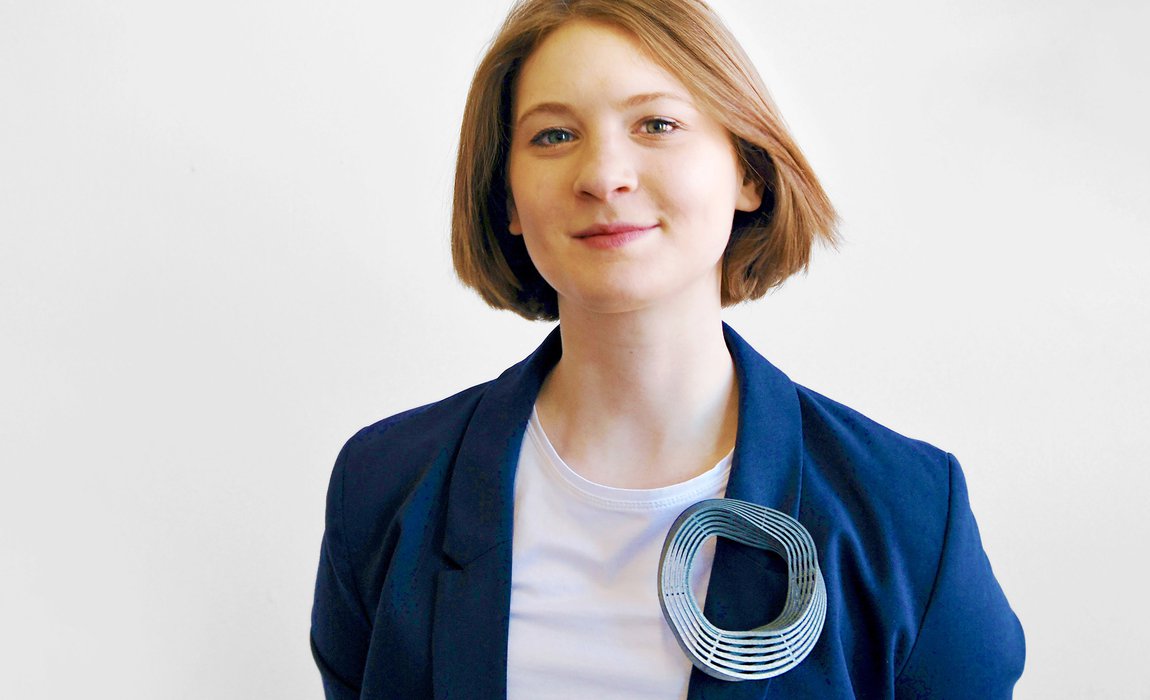 How has attending the business taster course Getting Started at the Goldsmiths' Centre helped you to prepare for this event?
If I was to attend Getting Started again I would definitely bring a voice recorder and take every bit of information away with me! It was a fantastic week filled with talks and workshops by very experienced members of the Jewellery and Silversmithing industry. Being able to talk to them and learn from their personal experiences in the trade was probably the most valuable part of the course for me. Learning more about practical skills like pricing, marketing and project planning has certainly been useful in my preparations for One Year On. The course was also a fantastic networking opportunity as I met an incredibly diverse range of designers and makers. It was a very special experience to feel part of a big friendly community.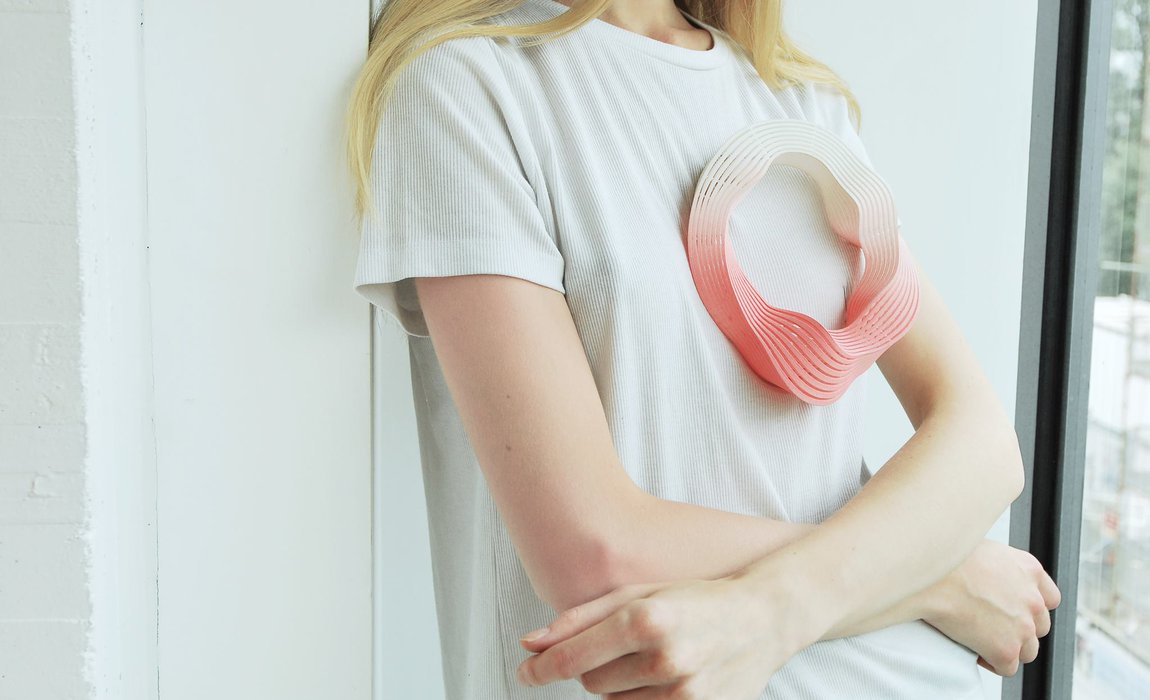 How would you describe your design style?
Digital 3D modelling largely informs the final outcome of my designs. I use it as a tool to experiment with repetition of form and transform simple geometrical shapes into unique structures. I look for a balance between soft flowing curves and calculated precision, 3D modelling allows me to achieve this and make chaos and order sing in harmony. I also design with a material in mind. My work incorporates 3D printed nylon, and knowing that this material is extremely strong and light allows me to design large statement pieces. I would like to believe that my work has a strong design aesthetic and I am determined to continue refining it.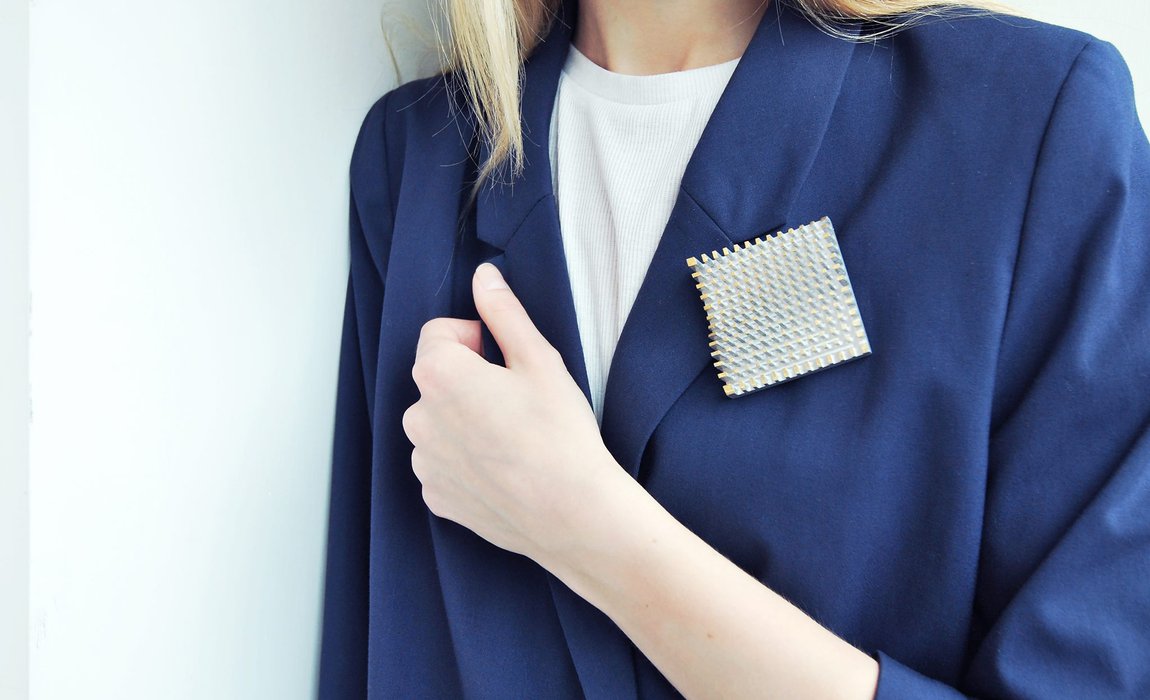 What was it like getting your first piece hallmarked by the Goldsmiths' Company Assay Office?
Slightly nerve racking! When sending a piece away for hallmarking for the first time I was never 100% sure if the hallmarking note was filled in correctly so I spent a while talking on the phone to a very patient member of staff at the London Assay Office! I first got my hallmark registered at New Designers in 2016 with Dave Merry, who was extremely helpful and informative and really made me feel proud to have my own makers mark and be part of such a long running tradition.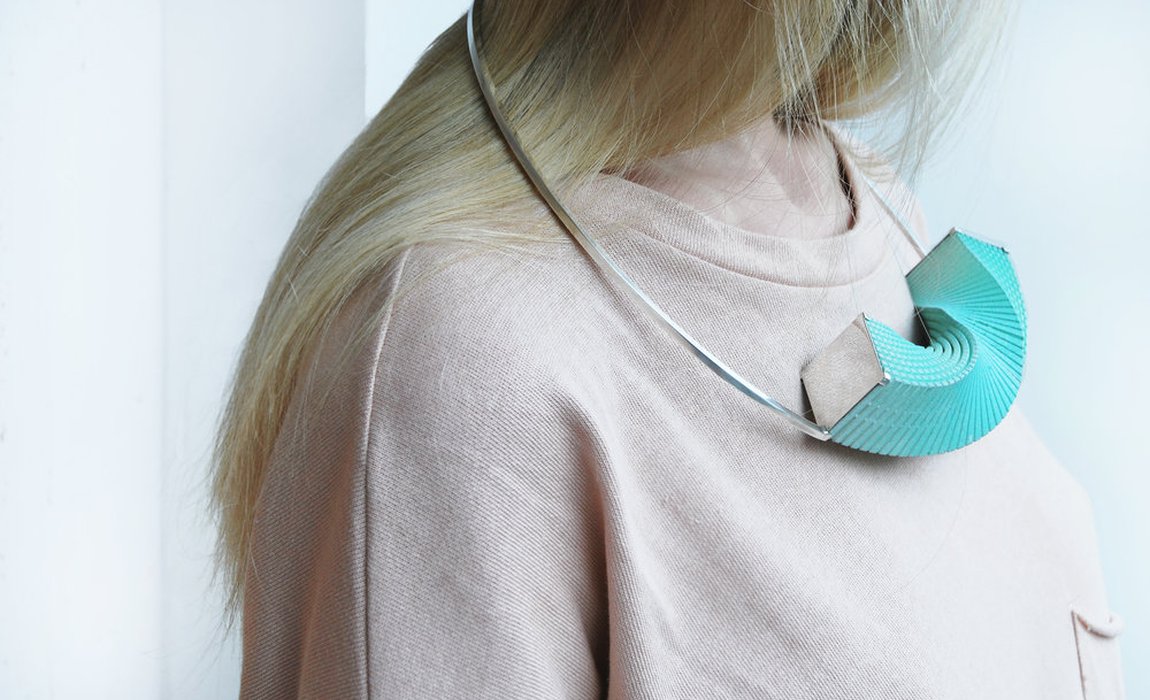 How will exhibiting at New Designers help you to prepare for Goldsmiths' Fair?
Participating in two events of such a high caliber really makes you take project planning very seriously! Even though it is slightly stressful, it helps my focus and my ability to stay on the right path. I think seeing and gauging the public's reaction to my work at New Designers would really help to identify what type of pieces work best and really inform my selection process for Goldsmiths' Fair. It would also be a fantastic place to directly engage with my audience and better understand my customer, which will feed in to my branding and marketing strategies prior to the Fair. New Designers will provide an invaluable amount of information that can make me stronger as a business, as a maker and as a designer.
Visit New Designers for tickets and more information.