Introducing Yeena Yoon – architecture to jewellery design
Yeena Yoon is currently part of the Setting Out programme at the Goldsmiths' Centre. She began designing jewellery as an exploration from her architectural background. Yeena's approach to design is through innovative use of materials in relation to the body. In this blog post, we talk to Yeena about her current collection and future plans.
Great having you here Yeena. Tell us a little about yourself and your professional background?
I began jewellery design as an exploration of self and a formal exercise in architectural composition and its relationship to the body.   
I am originally from South Korea and studied architecture at the Architectural Association in London.  Since graduating I have worked for many award-winning architectural practices including Zaha Hadid Architects, KPF and AHMM. My major completed projects includes the Aquatic Centre 2012 for the London Olympics.
It was during my time at Zaha Hadid where I started designing jewellery. There was something about the malleability of metal and its touch, which I instantly fell in love with. In addition to her work as an architect, Zaha also channelled her creativity through furniture, fashion and jewellery. This inspired me to be braver with the mediums that I chose as a designer.
How would you describe your design style? What makes it unique?
I am interested in testing architectural design language through the innovative use of traditional materials. Working with scale and proportion; searching for a new form and its material expression as well as combining traditional hand-making skills alongside digital technologies.
During my time on the Setting Out programme, I have developed a further interest in versatility in design: a design that can change its function and needs according to the wearer's necessity and desire.  This process has made me question not only the symbolic values in jewellery but also the idea of preciousness and this have lead me to use stones in different ways.
Where do you find inspiration for your pieces?
I find inspiration from everywhere - creative works such as films, art, photographs, architecture, furniture, books and also from other craftsmen.  I love finely crafted design and details that provoke feelings and meanings to other people. 
What or who initially drew you to jewellery design?
Studying architecture set me in many ways on a perfect path in appreciating design.  However, it is also the slow pace of architecture that encouraged me to venture into jewellery design in order to express my creativity and bring designs to life in a faster and playful way.
You've been honing your business skills this year with us on the Setting Out programme. How has the course helped you to kick start your business?
The programme has helped me in learning all the basics of how to run the business.  It allowed me to identify and evaluate my product not just as an idea but also in terms of its market positions, price and the customer profile. The Goldsmiths' Centre also provides great technical support and a workshop environment as well as exposure to inspiring exhibitions and talks about contemporary jewellery designers and trades. It is rare to be in an environment where you get to be creative while learning how to run a business at the same time.
What are you planning to do once you have completed the Setting Out programme?
I am going to launch the business. I am currently refining the designs that I developed last year and also expanding it to create a collection. I am looking forward to applying all my learning into practice.
Do you have a most treasured item in your personal jewellery or art collection?
The Covet series that I have created during the Setting Out year is the most treasured item for me because it is the essence of the most valuable time and experience that I have given to myself.
Who would you most like to see wearing your jewellery one day?
Anyone who appreciates the detail and the design behind each piece of my work! It will be a bonus if someone that wears my jewellery can reflect it into their style.
What advice would you give to anyone who is thinking of applying for the Setting Out?
I would suggest to them to set an intention before they start the course. Everyone would be at different stages in their business, and they will be able to get the most out of the programme by knowing what they want to achieve. The Centre will also be able to provide them with the right push and direction.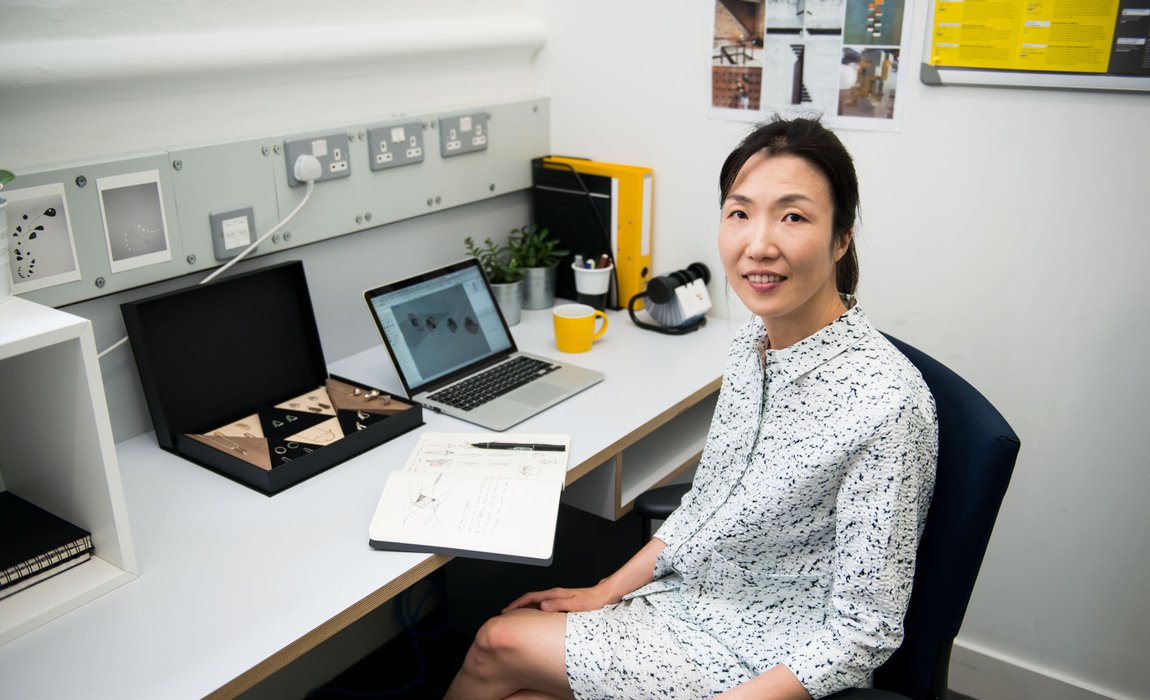 Click here for more information on the Setting Out programme.