HammerClub 2019; An Interview with Amanda Randall
Our latest exhibition, HammerClub 2019; Renewal, represents some of Europe's most inspiring and skilled craftspeople - including the multi-talented Amanda Randall, a public artist, sculptor, painter, jeweller and silversmith who caught up with the Goldsmiths' Centre this week.
How have you have responded to this year's exhibition theme of Renewal - what does this word mean to you and how is it reflected through your work?
My piece, called First Cut, is a small forged silver knife with a curled handle, reinterpreted from a design popular in Roman and Saxon times. It represents Renewal on many levels. Firstly, the silver is recycled from surplus material: the waste was melted down and transformed into an item of beauty. Secondly, the knife has been entirely forged by hand with the marks of the hammer and file deliberately left for the user to enjoy, celebrating the current renewed interest in haptic and hand skills. And finally, this small knife is my first piece of forged silver, representing the renewal of my own creativity through my transition from public artist and sculptor to silversmith.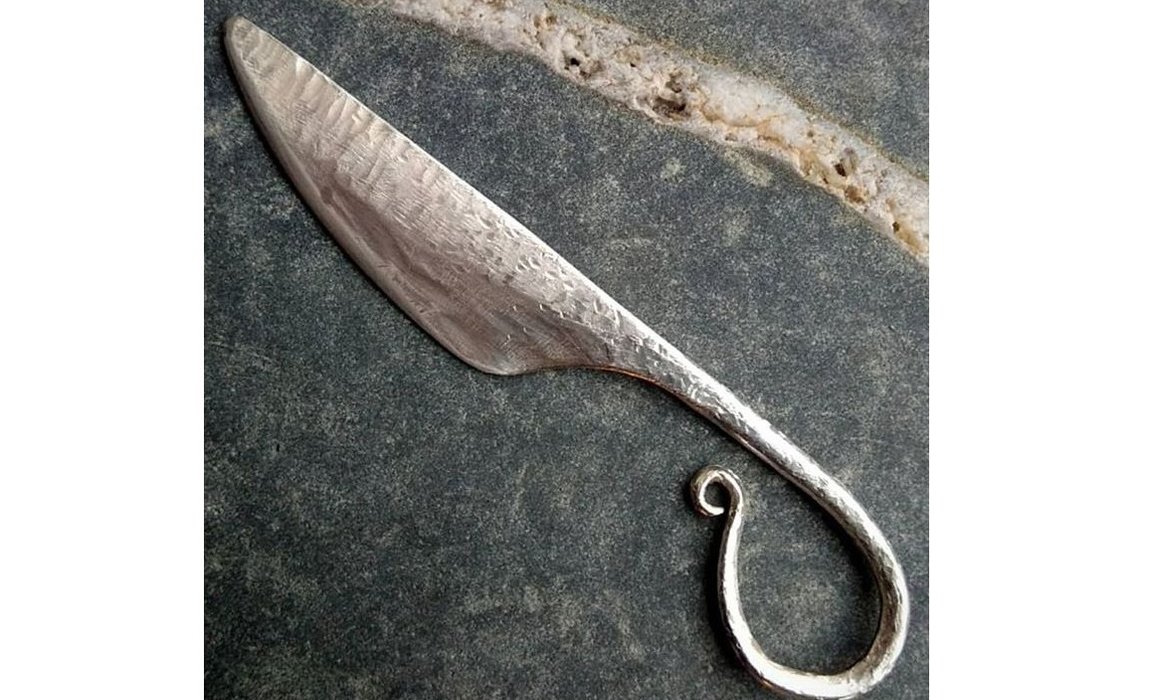 Why do you think exchange and collaboration between practicing silversmiths is important?
Silversmithing is an endangered profession: many university and college courses teaching the craft are being closed down. It's therefore vital that we share our expertise in order to make sure that skills are not lost. Gone are the days when smiths would jealously guard their knowledge from the competition; in the 21st century we must collaborate to succeed. This is also important to avoid the isolation and stress which could easily result from sole practitioners working alone. As well as sharing technical information, silversmiths, academics and curators need to explore and develop new audiences. The old traditions of commissioning silverware for fine dining in grand households are less relevant, but audiences still respond strongly to the aesthetic power of handmade objects in this beautiful metal. Working together, we need to find new ways to connect the audience with the objects, whilst ensuring that silversmithing is a financially viable occupation. I previously worked as a sculptor engaged in public commissions, but now I'm seeking to take closer aesthetic control of my work, and to explore organic forms through forging and raising. The HammerClub, the Goldsmith's Centre and Contemporary British Silversmiths all offer great learning and networking opportunities that will help me in this new direction.
In your view, does European silversmithing differ in any ways to approaches in the UK?
The majority of the exhibitors in 'Renewal' from the UK are women. There's an especially vibrant community of silversmiths in Scotland with a large proportion of female practitioners. By contrast, the larger proportion of the exhibitors from mainland Europe (Germany, the Netherlands, Poland and Denmark) are male. It's hard to be sure without interviewing every silversmith, but our European colleagues seem to use mainly traditional hand techniques to produce extraordinary, innovative and beautiful objects, while a significant number of UK makers are experimenting with the incorporation of semi-industrial and digital techniques to create equally stunning and challenging works. I'm happy to be corrected on this if anyone has information to the contrary!
Are there any trends that you see as particular to European silversmithing at the moment?
Surface texture and organic, sculptural form are prominent themes across Europe (I include the UK in this category while I still can,) as are geometric forms. There is little flatware or cutlery exhibited. I believe this is due to a decline in the popularity of silverware for fine dining, and increased interest in silver vessels as non-functional sculptural objects. Many makers are creating series of related objects and incorporating wood with their work.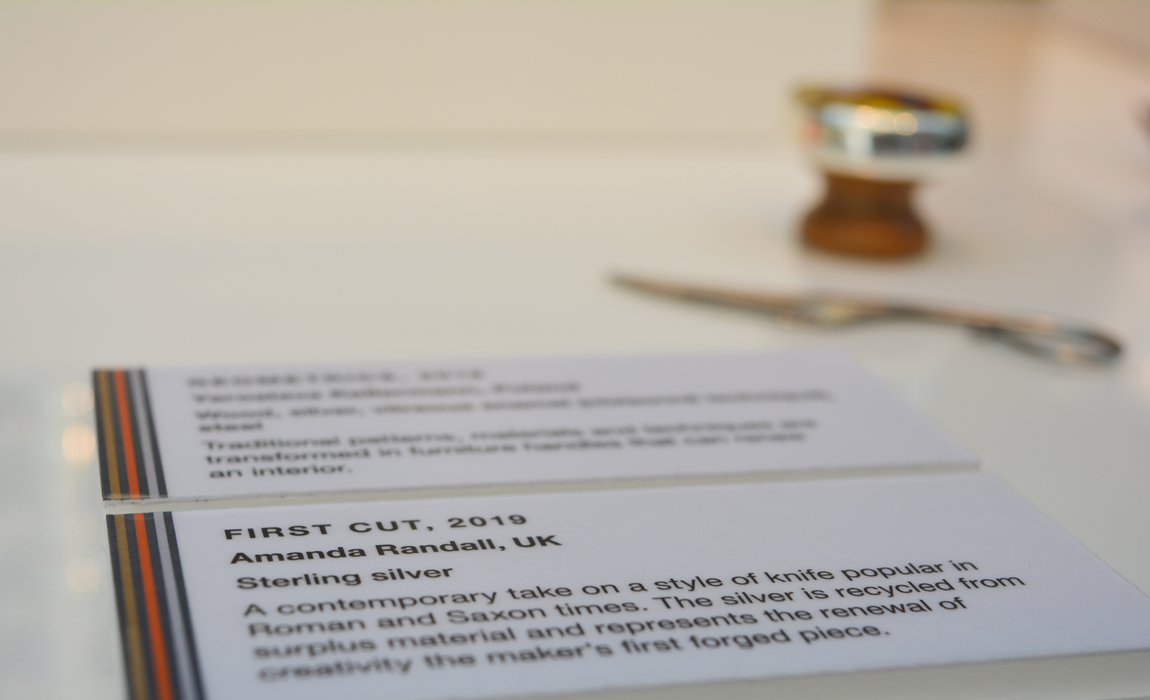 Each year the HammerClub hosts a symposium in Europe. This year it took place in Dundee. Why do you think the event is important and how did being in Dundee influence your thinking as a silversmith?
The symposium was an invaluable opportunity to meet other silversmiths and professionals involved in the industry. It was a very sociable and supportive event; face to face contact and the friendships formed are very important when so many of our interactions are now online. As well as being a great forum for the exchange of technical information, the enthusiasm and commitment to their craft of the makers both presenting and learning was contagious and energising. It was also a great opportunity for the informal exchange of ideas and opportunities. Dundee was a fabulous setting for the event. The new V&A Museum and the Compass Centre seemed to be very popular with residents and visitors alike, and were a great example of culture used as a catalyst for urban renewal. The learning opportunities and technical facilities presented by the Duncan of Jordanstone School of Art and Design are exemplary. As an English artist and maker, I feel very threatened by Brexit and austerity, so it was important to me to reach out to Scottish and European colleagues.
Did you take any new ideas or techniques you want to test away from the symposium?
There were so many ideas I can't possibly list them all. Sandra Wilson's presentation about 'Dutch Raising' - with Adrian Hope's enlightening and spontaneous comments –was a real lightbulb moment for me. Adi Toch's talk about patination had me searching in my kitchen cabinet for potions I can use; Malcolm Appleby's homemade jumper and shimmering engraving would bring joy to the greyest day while Michael McCrory's extraordinary videos of press forming cylinders revealed the amazing plasticity of silver. All of these signposted me towards further training. I'm planning to visit the Goldsmiths' Centre in the autumn to find out about their Gold Membership scheme, and I'm keen to explore the possibilities of working with Scottish gold and fair mined silver as I believe that provenance will become a central issue for collectors soon.