The SIGA Series: Silversmith Manasi Depala
Introducing Manasi Depala, a Silversmith who is currently undertaking the Student Internship Graduate Award (SIGA) alongside Hazel Thorn. In this installment she shares her experiences studying at Bishopland Educational Trust and how she plans to use her placements to push the boundaries of her technical skills.
Inspiration and Education
My Indian upbringing in Britain has always been my inspiration for my silver work. Growing up visiting the temple and experiencing Hindu festivals like Diwali and Holi has largely influenced my designs. Although I am fascinated by the traditional and intricate architecture of India and its architectural details such as the fine wood carving and marble work I still like to play with clean, geometric shapes to form the basic shapes of my silver. I then combine the modern, angular shapes with intricate decoration in the form of chasing which is the technique I am specialising in. I think it is this combination of clean shapes embellished with Indian inspired intricate chasing which sets me apart as a maker.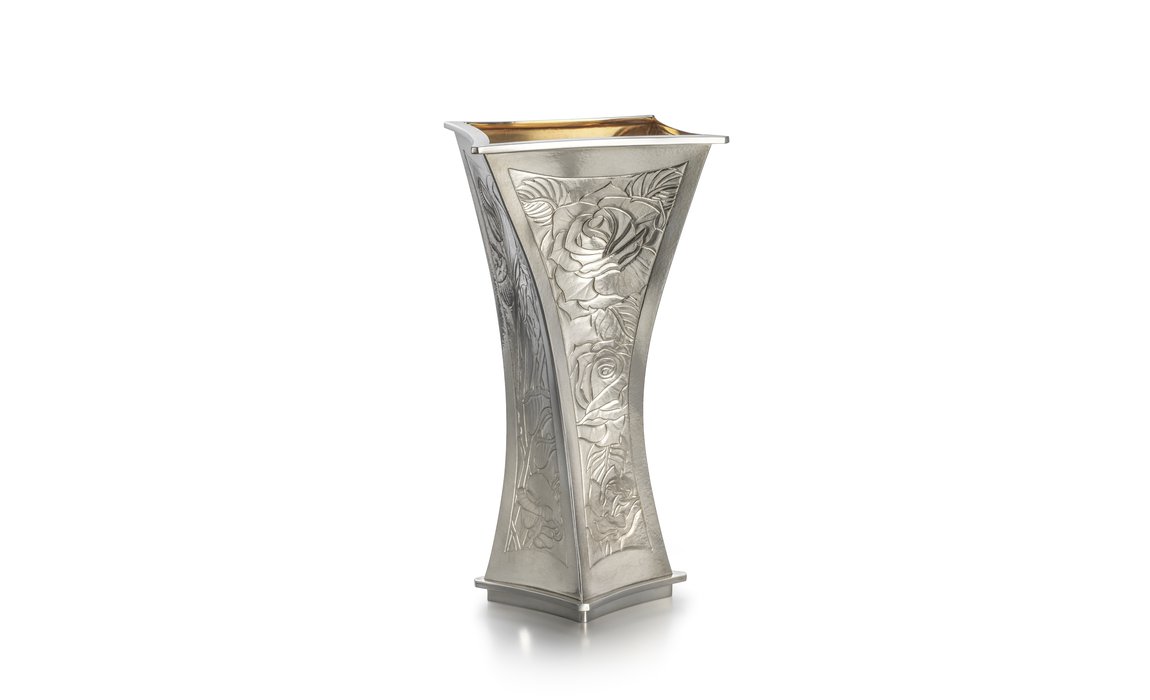 I developed a distinct design identity while studying on the Jewellery & Object BA (Hons) degree course at the University of Lincoln. It was great for opening my mind to different ways of drawing, designing and model making. However, after completing my degree course I felt that I still had a long way to go in terms of my practical making skills and in deciding exactly what it was that I wanted to specialise in. So, I went on to complete a one-year post-graduate residential course at Bishopsland Educational Trust where I was lucky enough to have the opportunity to really pick up some hands on silversmithing techniques. Although by that time I was still very much jewellery focussed. 

At Bishopsland we had the opportunity to attend some masterclasses with master-craftsmen in various different specialisms such as forging and raising, engraving, chasing, stone setting and gold inlay and gold fusion. It was wonderful to have been able to try my hands on so many different techniques but I took a special interest in chasing which was taught by master craftsman Rod Kelly. I thought that chasing would be a technique that would suit my style of designs quite well and I also really enjoyed it. I felt incredibly comfortable with using the hammer and various punches to create marks in the metal and decided it was a technique that I had the patience to pursue. 

After being introduced to chasing my work changed quite rapidly. I wanted to design bigger items of silver to give myself an opportunity to practice chasing on a bigger surface area. I quickly moved away from making jewellery and was starting to make small items of silver like caddy spoons. My problem was that I was just finding myself and working out exactly what kind of pieces I wanted to make but my time at Bishopsland was nearly over and I really felt the need for some more tuition to improve my chasing to be able to achieve my ambitious designs.
 
After Bishopsland I contacted Rod Kelly to discuss my options for doing some further training with him. Following his suggestion, I applied for a Queen Elizabeth Scholarship to do some one-to-one training with him. My application was successful and my training was to include a tailor-made silversmithing and chasing course. I quickly realised during my time with Rod that to really specialise in chasing I would need a lot more time to pick up the nuances of it and perfect my skills. I also realised that there are many aspects of chasing such as making the punches and mixing the pitch that I just didn't have enough time to cover all of these things. I felt that although my time with Rod was invaluable as I picked up so many tips and tricks relevant to my making, that I still had so much to learn.
Applying for SIGA
I first heard about SIGA through Bishopsland who was advertising it as a training course. I read through the details and thought this would be the perfect time to pursue this and perfect my newly acquired skills. I applied with a sketchbook, portfolio and a physical example of my work; a chased box with ebony interior.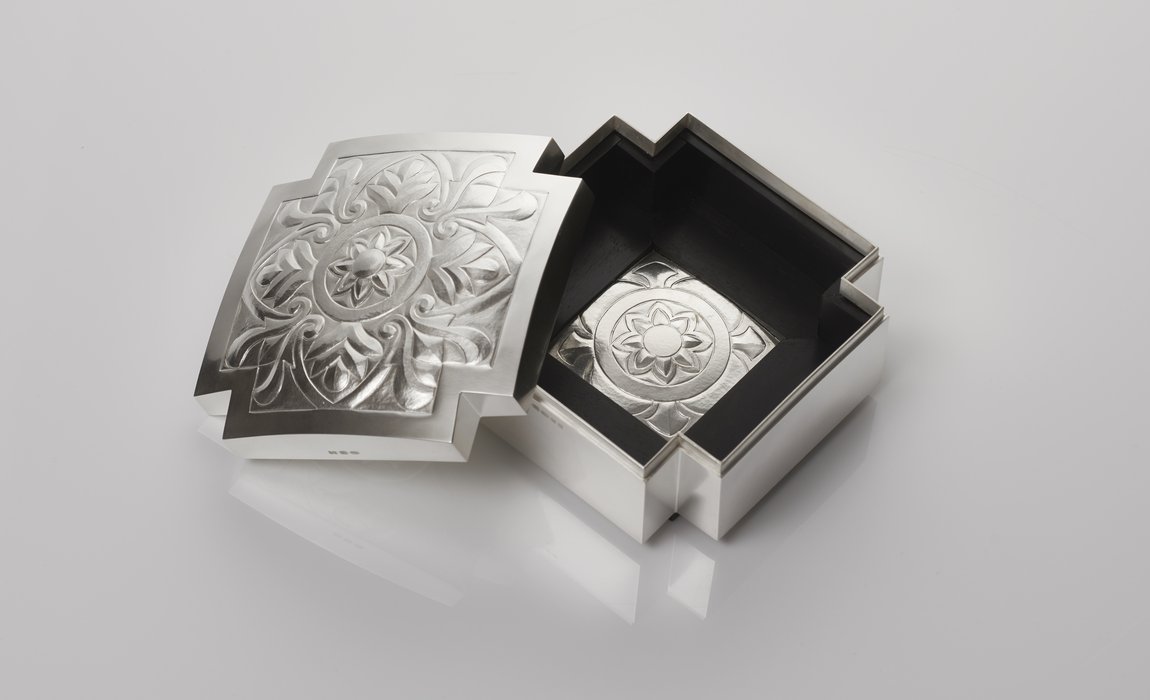 After a couple of weeks of anxious waiting I was so pleased to hear that my application had been successful and I was to complete some design work and attend a meeting with the SIGA committee. It was here that I realised what a fantastic opportunity I had been given. I had the chance to discuss my designs and ideas with an expert committee who advised me on which direction I should go in for my bespoke SIGA training. I had the freedom to select who I wanted to work with and what I wanted to make which I think makes such a difference in being able to ensure that you can really achieve a lot.

I decided to work with Silversmith Ray Walton for six weeks, (honing my basic silversmithing skills like soldering, forging, fabricating and hammering) Angela Cork for four weeks, (box making, hammering, fabricating and scoring and folding) and Rod Kelly for six weeks, (covering all aspects of chasing like making punches and mixing pitch as well as practicing chasing in detail). My plan was to really push myself, not only through my designs, but also by challenging myself to make pieces that I would not normally attempt on my own. This way I could make sure that I was making the most of the opportunity of having access to advice from such skilled tutors. 
Interested in technical or business training? Find out more about our courses.