Foundation Programme: An Interview with Harry Buckett
Harry Buckett is a Goldsmiths' Company stone-setting apprentice at historic London jewellers, Brown and Newirth. He is also a Foundation Programme alumni with much to say about his experiences on the course and his love of the trade.
Could you tell us a little about your journey into the industry?
For me it began at school, when I took a module called 3D for my GCSE's. It was very similar to silversmithing, and was taught by an amazing guy called Chris Chalk. He was the driving force behind me getting into the industry, as he recommended that myself and a few other students - including Varis Prieditis, who's also now a Goldsmiths' Company apprentice - apply for the Centre's Foundation Programme. I applied not really expecting to be accepted, because it's a top end institution for jewellery training, but I was. And then I just fell in love with the place, with making things by hand and the industry itself.
What does a regular day look like for you as an apprentice at Brown and Newirth?
I tend to arrive at work half an hour early to do a bit of practice and experimentation. Then I'll spend the day setting. Usually I'll be working mainly on wedding rings and engagement rings, but I might also work on earrings, pendants, necklaces, all sorts - so I really get to try out a mixture of different styles and techniques, and give everything a shot.
Is there anything unique about working at your company?
Brown and Newirth was quite a change of scenery for me, because it's a big company with lots of different sections, and on the Foundation Programme I got used to working with a small, core group of people every day. Being a setting apprentice there also means doing very specific work, as opposed to a little bit of everything like I was doing on the programme.
What are your plans after your apprenticeship ends?
My plans are just to keep working and to keep learning; I'm doing what I love right now so I have every reason to stay on this track. I'll remain at Brown and Newirth for as long as they'll have me as I really enjoy my work there, and I plan to enter some competitions in the future.
What made you choose to become a stone setter?
During the Foundation Programme, you do a little bit of everything - mounting, polishing, silversmithing, setting - so that's ideal for finding out which speciality is for you. I found I connected with setting right away. Not because I was the best or the quickest at it, but just because I enjoyed it and it spoke to me on a personal level. I knew right away it was something I wanted to learn and become skilled at.
How do your friends and family feel about your career choice?
They're just pleased that I'm doing anything at all! At first there were a lot of jokes about them all expecting expensive gifts for Christmas and Birthdays. Now they're over that, they're pleased that I'm doing something that I love, and that's also quite unusual. They're proud of me.
Can you highlight one memorable moment of your time on the Goldsmiths' Centre Foundation Programme?
I really enjoyed going to the Goldsmiths' Centre Design and Craft Awards, seeing amazing pieces of work and getting to meet the people who made them, and shake their hands. The high level of skill involved in making those pieces was inspiring to see, and it gives you hope that one day you'll be in that position.
How have your experiences with the Goldsmiths' Centre impacted your life and career as a whole?
The Goldsmiths' Centre transformed my life. When I left school, I had no idea what to do next, and the Foundation Programme was an opportunity that gave me direction and confidence, it showed me that I could be good at something. And I've learned skills here that I can carry over to every aspect of my life, not just my professional life. I've become so much more comfortable talking to people and interacting with others, I've gotten over any social anxiety that I had before and whether I'm at work or out with friends, that has helped me. I'm just a happier, more confident person in general now.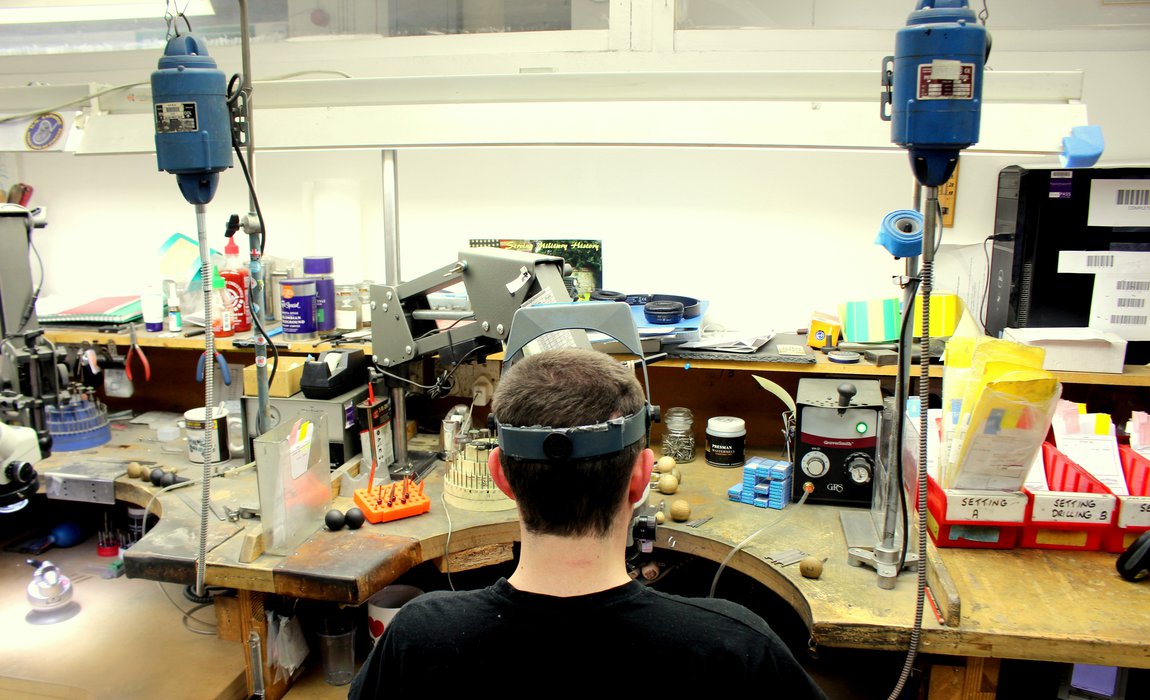 What advice would you give other young people interested in entering the industry?
Don't be nervous. Don't be nervous about approaching your local tradesperson, entering a competition, contacting the Centre - don't be nervous about anything that could further your career. You've just got to go for it. Everyone I have encountered in this industry and particularly at the Goldsmiths' Centre has been so welcoming, so helpful, so willing to train new people and keep the craft alive, it's incredible. So just do it.
Applications for 2019/2020 close on Sunday 5 May 2019. 
Interested in applying for our Foundation Programme course? Find out more information here.