Shine 2019: An Interview with Elena Lara Bonanomi
Self-driven business owner Elena Lara Bonanomi creates delicate chain-based jewellery as a part of her new collection. She is one of ten makers chosen for Shine 2019 – our annual showcase of new talent. We spoke to Elena about learning to run her business, the transformative design of her collection Dual Jewellery and her wider vision for who wears her pieces.
What can you tell us about your journey into the industry?
After falling in love with jewellery while living at home in Italy, I moved to London to study Jewellery Design at Central Saint Martins and graduated with a first-class honour's degree. From there, I tried getting my work into Trade Fairs, this meant that I was able to get work experience in a few different countries before setting up my brand. My collections made it into Trade Fairs in Munich and London, and also into some exhibitions across Europe. From there my brand was somewhat established so I started work on my online shop to create a more direct relationship with the clientele that was taking shape. Today, my business is a totally self-driven and I'm trying to care for all aspects.
How has the Centre been a part of your journey?
I took part in the Getting Started programme which was very, very useful; it was intense, but the tutors gave us a lot of notions to follow. As creative people, I find we normally don't spend a lot of time teaching ourselves about marketing or those aspects that are fundamental to our work - those aspects were normally something you asked someone else to do for you! So, to learn a bit of everything has proved very useful in keeping my business self-driven.
What can you tell us about your collection?
My collection is called Dual Jewellery and the concept I'm exploring in this collection is based on the idea of appearance and transformation. I refer to classical shapes that are commonly used in commercial jewellery but try to give them a new interpretation, playing with conventions and expectation. I use a very thin gold and silver chains to create sparkling surfaces to design upon. My designs range from teardrops to crosses to heart pendants, they could be anything! What is unique about my pieces is that the design is clear and visible when the wearer is static and motionless, but when the wearer moves, the design disappears.
Do you have a favourite piece in the collection?
I would say the pearl earrings because I used real Tahitian pearls as studs and the design of the earrings is made with beautiful sterling silver and black rhodium-plated silver chains. I think the design is more playful – they're funny and elegant at the same time.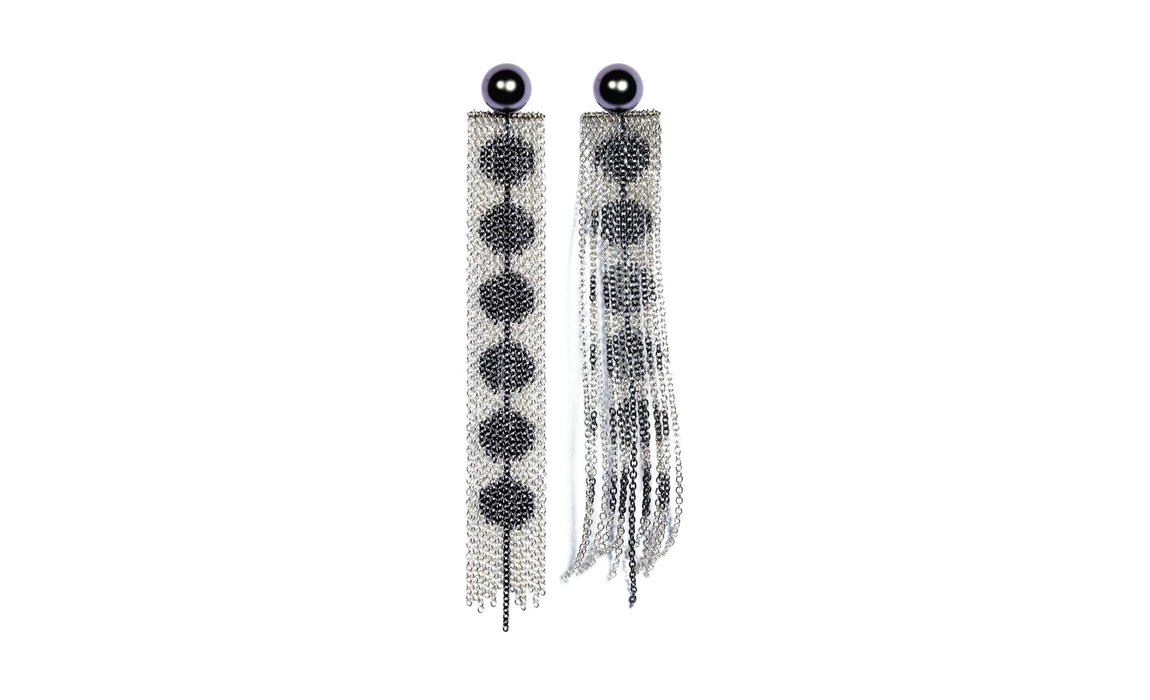 What kind of customer do you expect to be most drawn to your pieces?
I'd say my pieces are for women who like to look elegant but aren't too serious, women who don't follow specific fashion trends and want to be unique and different. But really there isn't any limit to who could wear my pieces, I don't think it's a matter of age or gender, it's a state of mind.
Elena's collection Dual Jewellery is now available for purchase via our eShop - perfect for a bespoke Christmas present!