News: King Charles III visits the Goldsmiths' Centre to celebrate its decade training and educating jewellers and silversmiths
His Majesty King Charles III has been helping to celebrate the 10-year anniversary of the Goldsmiths' Centre today (23 November), by visiting trainees and apprentices at its workshops and exhibition space near Hatton Garden, London's famous jewellery quarter.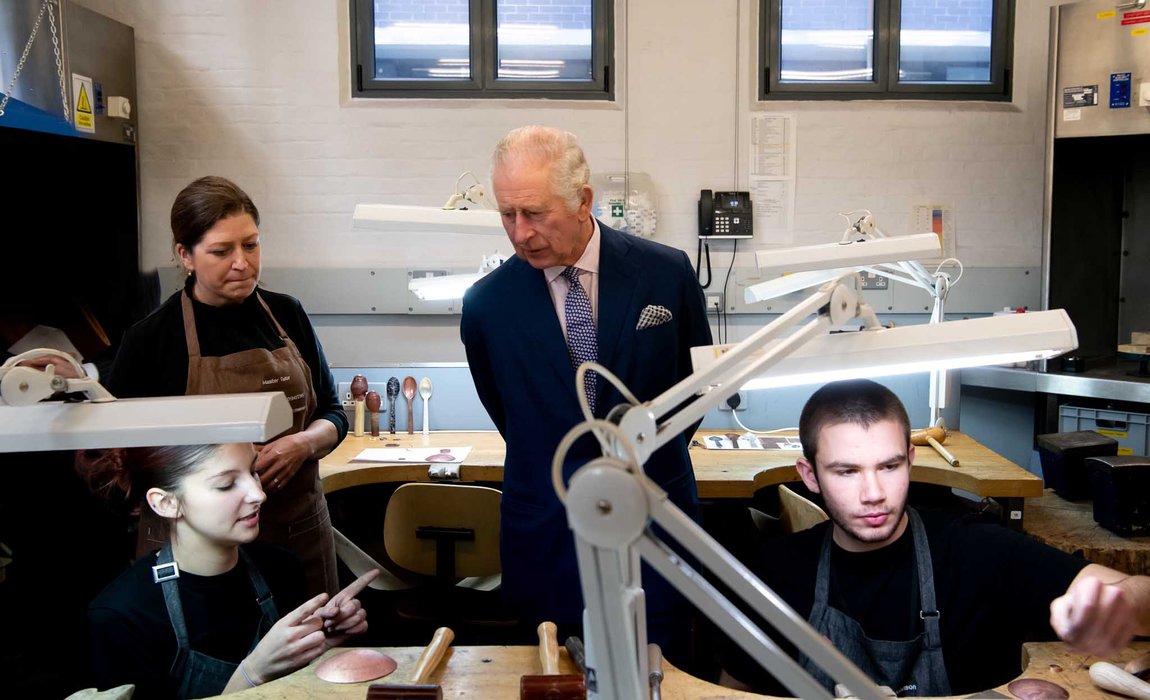 The King was introduced to ten of the Centre's Foundation students while they worked at their benches.
Sophie Welch, a Foundation Programme alumni, presented His Majesty with a gold-plated pin designed to mark the Centre's decade of training and educating jewellers and silversmiths to have careers in the industry.
His Majesty also met with current and former Goldsmiths' Company apprentices, a scheme that has been running since the early 1300's, as well as the Centre's 2022 World Skills Competition contestants – including George Schembri, who achieved a bronze medal at this year's competition. The King heard about their work, training, the importance of retaining skills handed down over centuries, and their hopes for the future.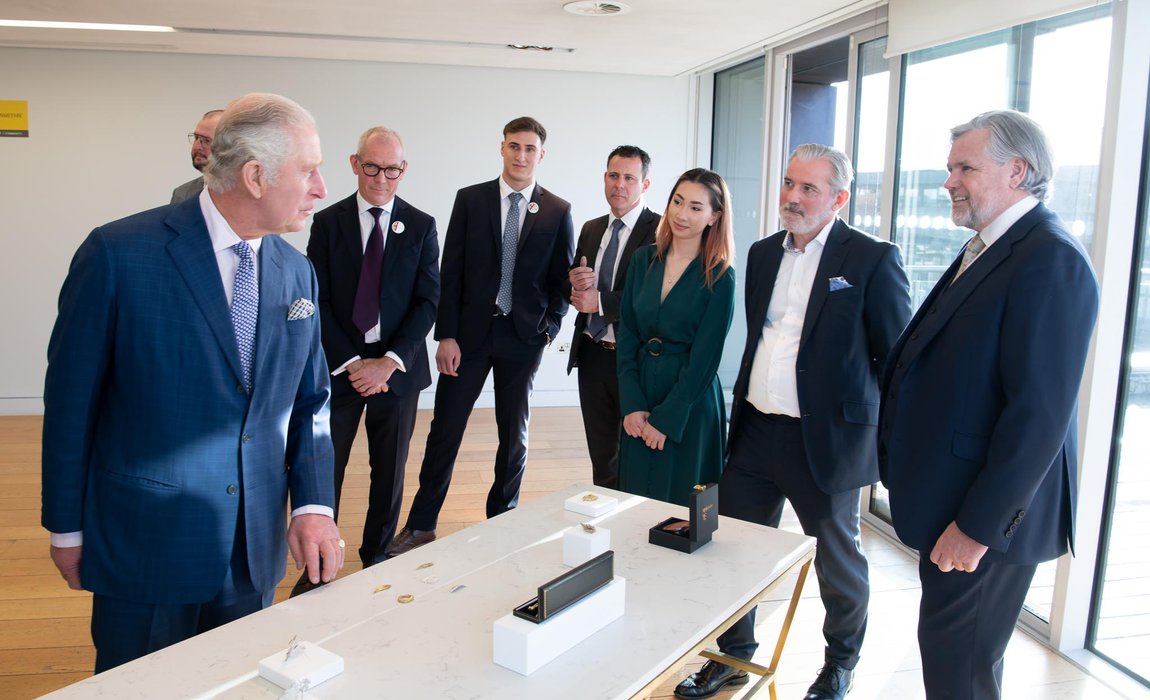 Ella Rothing, a Goldsmiths' Centre Foundation Programme trainee said, on meeting His Majesty:
"The King spoke to me about the different silversmithing techniques that we are learning. He was really interested in how much hammering is involved to create the piece – a covered pot design – that we are working on at the moment with our tutor [silversmith Angela Cork]. It was an absolute privilege to meet His Majesty. The best bit was when he shook my hand – I wasn't expecting that!"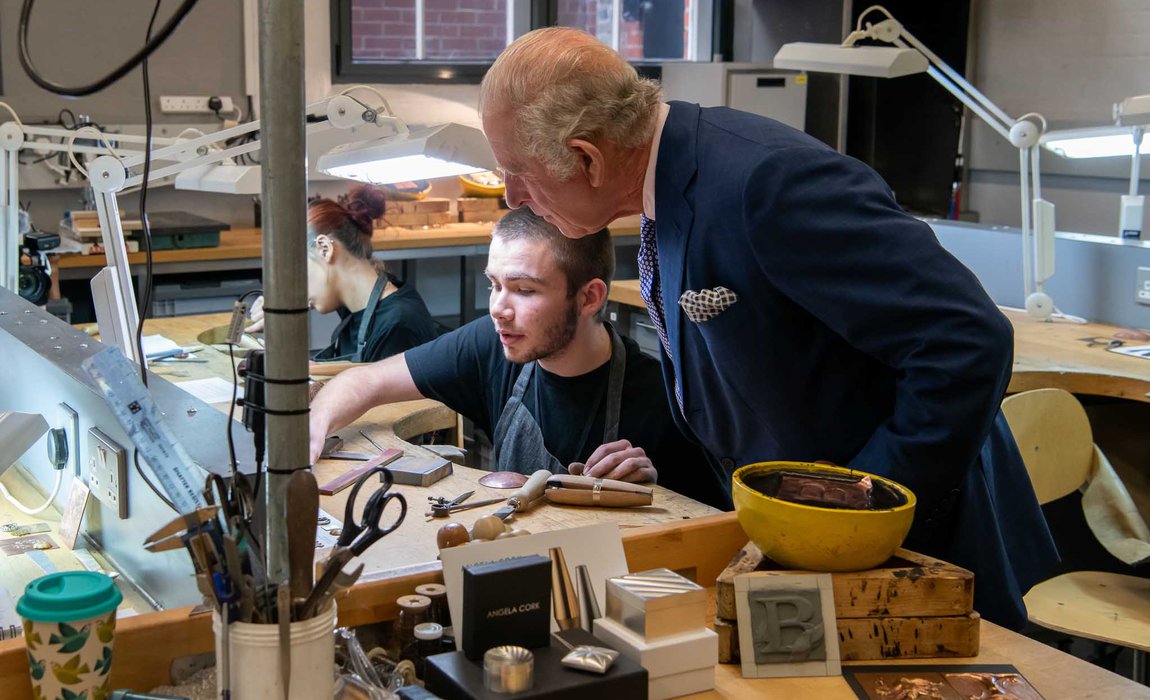 Theo Kimber Salanson, another Goldsmiths' Centre Foundation Programme trainee, also spoke to The King about filing techniques and how he got interested in a career in the trade, inspired by his mum's who is a jeweller.
"I was slightly nervous meeting The King. But it was an eye-opening experience. I didn't think that a year ago I would be on this [Foundation Programme] course – where there are only ten spaces – and meeting The King. It's been a shock – in a good way!"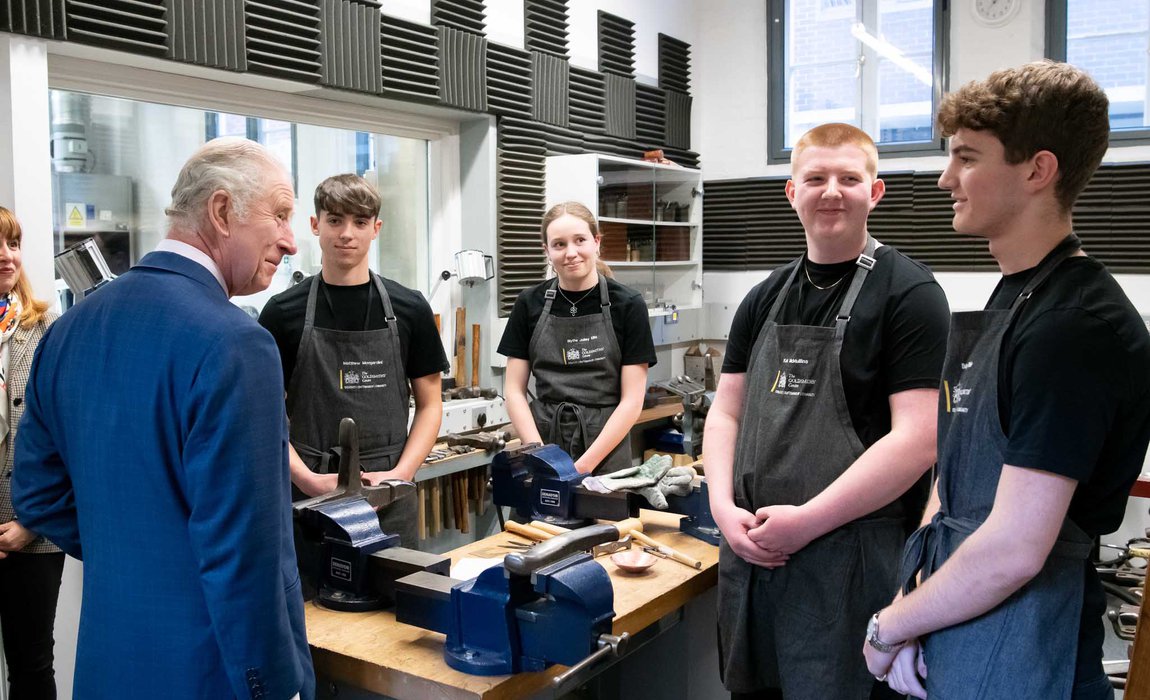 Over the last decade, the Goldsmiths' Centre has engaged around 14,000 emerging and established craftspeople in its skills training programmes and has helped over 5,000 UK beneficiaries through its grant giving initiatives. It has also supported 80 young people to enable them to hone their creative and craft skills on its Foundation Programme, seeing 71% enter a Goldsmiths' Company apprenticeship scheme or further studies.
"This year marks a major milestone for the Goldsmiths' Centre as we celebrate ten years since opening our doors, and we are delighted that The King was able to join us today to celebrate the amazing skills and work of many of the young people and trainees who have been through our doors in the last decade."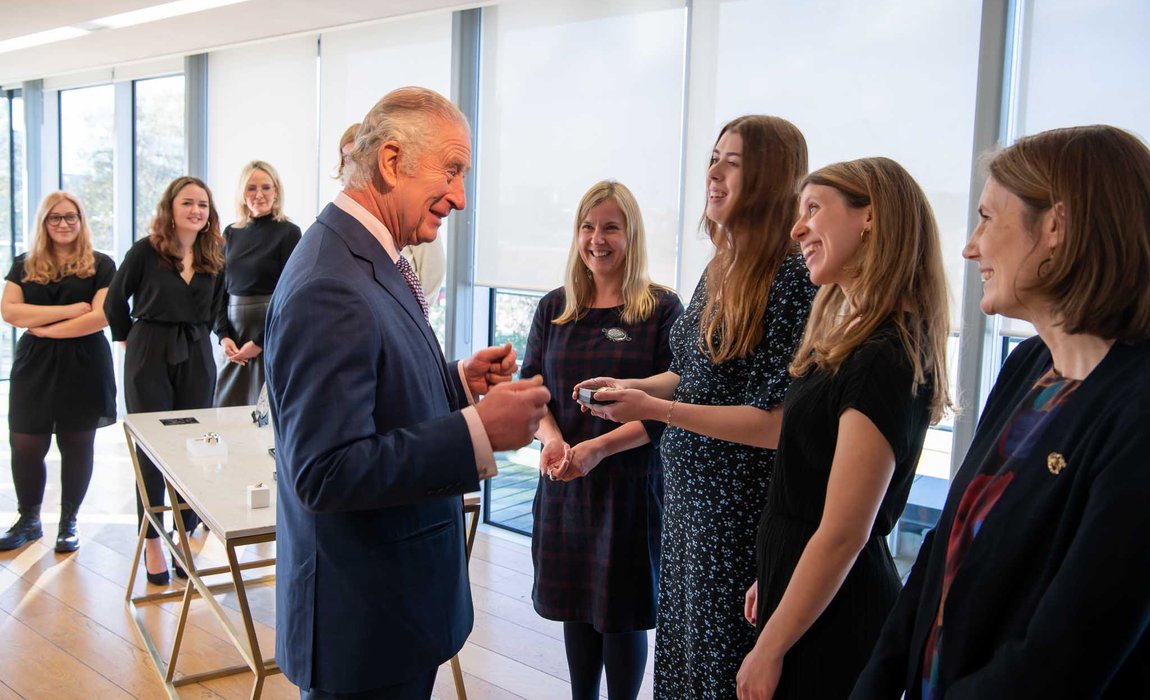 "Developed from an aspiration to protect, nurture and grow the future industry, the Goldsmiths' Centre is a unique creative hub that provides workshops, studios, co-working, education, training and events space. As a charity, we are immensely proud to have helped hundreds of jewellers, silversmiths, members of the industry and young people across the UK to improve their skills and pursue successful and fulfilling careers."
– Peter Taylor, Director of the Goldsmiths' Centre since it was founded in 2012 by the Goldsmiths' Company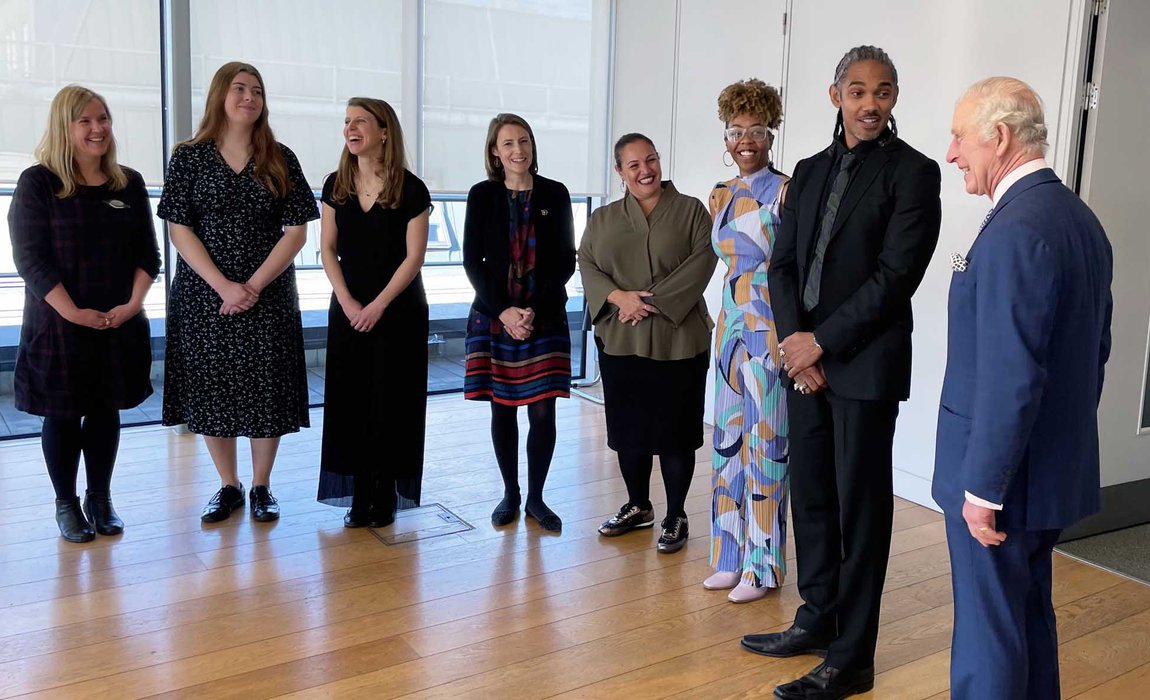 During the visit, The King also hand struck the King's Mark (the town mark for London) onto a Processional Cross for the Church in Wales. The Cross was commissioned by The Goldsmiths' Company on behalf of The former Prince of Wales (now The King,) and will be shared by the Church in Wales and the Roman Catholic Church in Wales. Both Churches were represented at the hallmarking.
The Cross has been made by the silversmith and master craftsman Michael Lloyd, and with The King's longstanding environmental priorities in mind – it is created from silver sheet produced from recycled bullion provided by the Royal Mint at Llantrisant, with a shaft of Welsh windfall timber.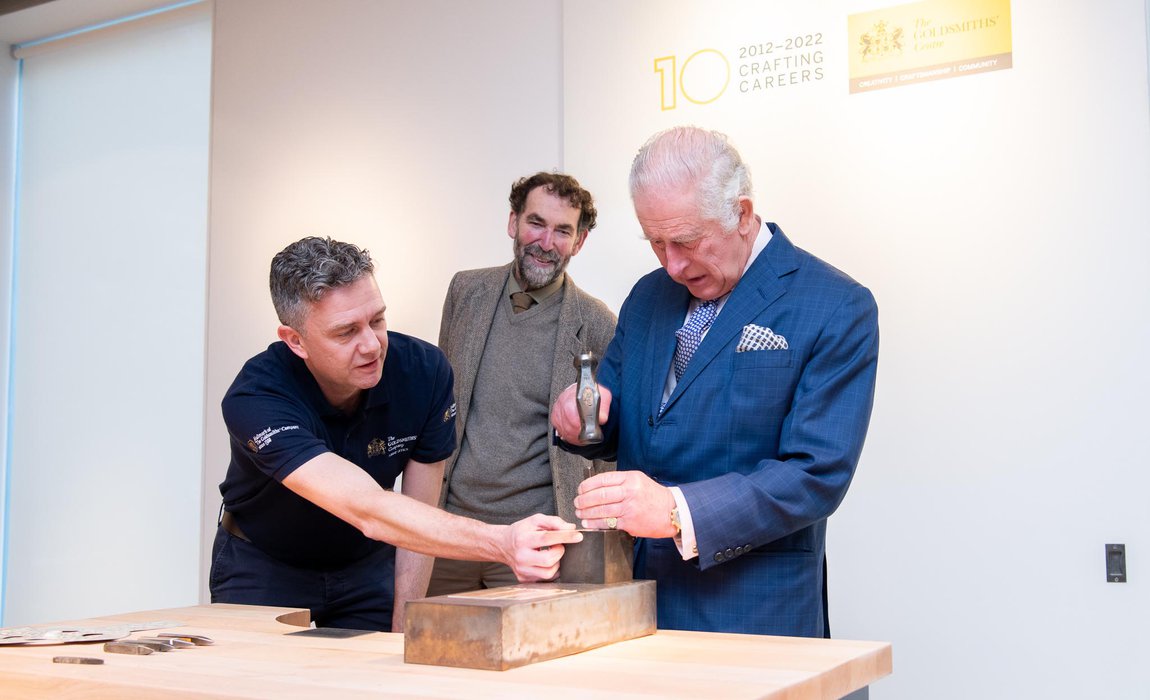 To coincide with The King's visit, the Prime Warden (Chairman-equivalent) of the Goldsmiths' Company, Lord (Mark) Bridges, announced that its Charity had launched a £10m Goldsmiths' Landmark Grants Programme to support charitable and educational partners to deliver vocational and technical skills training to people in the UK.
In 2020, London livery companies gave £8m in grants towards skills training, 27% of which was contributed by the Goldsmiths' Company Charity as part of its long-term commitment to improving lives.