Preserving and Passing On Hand Engraving Skills For The Next Generation
Hand engraving is the ancient skill of embellishing precious objects using traditional engraving tools. A small number of highly respected professional craftspeople still practice this skill across the UK. The demand for their skilled work is high; currently many operate waiting lists of months or even years for their engraving services. However, with many of them nearing or working beyond retirement age, there is an urgent need to pass on their skills to the next generation and widen training and learning opportunities.
The Hand Engravers Association of Great Britain was awarded £19,528k in collaborative funding from the Goldsmiths' Centre to run a series of training opportunities including workshops in the Centre's own purpose-built facilities and specialist courses in Manchester. The training aims to perpetuate the art of hand engraving in the UK, with a particular focus on the rare skill of copper plate engraving; to encourage apprenticeships and create a pool of hand engravers ready to teach by training the trainers.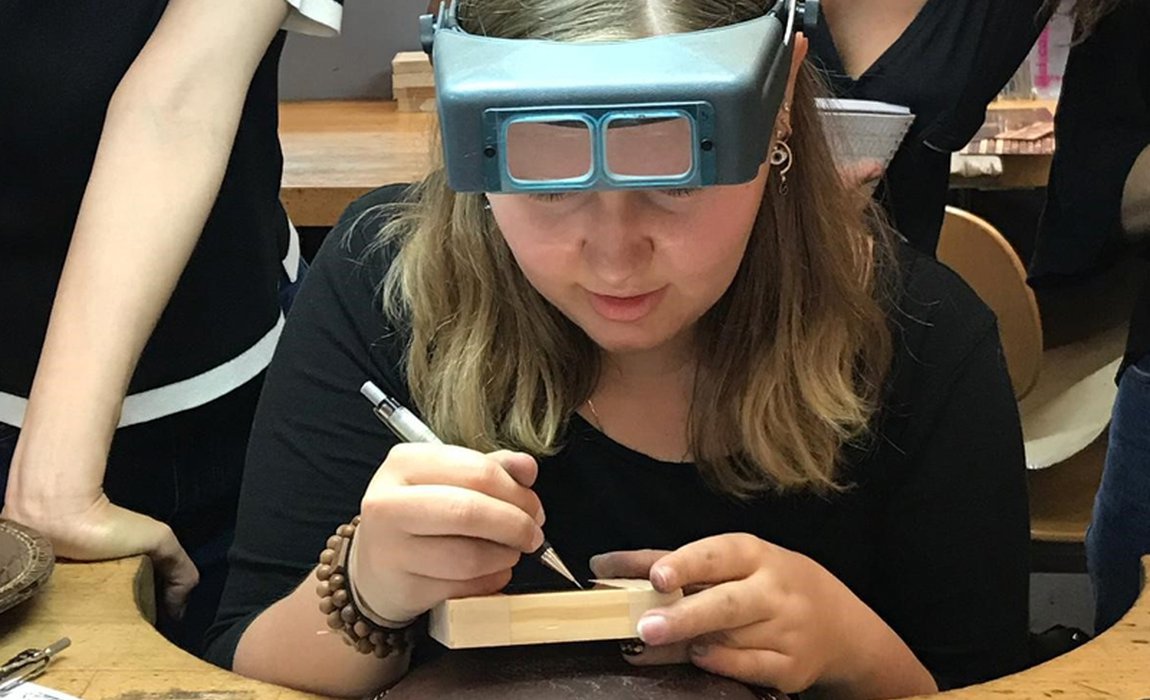 The grant enabled the Hand Engravers Association to run its first ever Summer School, led by silversmith and engraver, Angus McFadyen. Over five days ten promising beginners immersed themselves in the skill under the guidance of Angus and five award-winning and highly experienced visiting hand engravers; Dudley Withers of Sauvarin Withers, Barry Green, Louise Sorrell from Sam James Engraving, Castro Smith and Lucy McLeod. Participants were encouraged to share knowledge and skills and practice a range of techniques from scroll work, engraving letters of the alphabet, seal engraving to hand engraving steel.
"I'm so lucky to be taking part in the Hand Engraving Summer School. An absolutely inspiring first day at the Goldsmiths Centre, starting with technical exercises to try to gain control of the graver and practice straight lines and curved cuts!"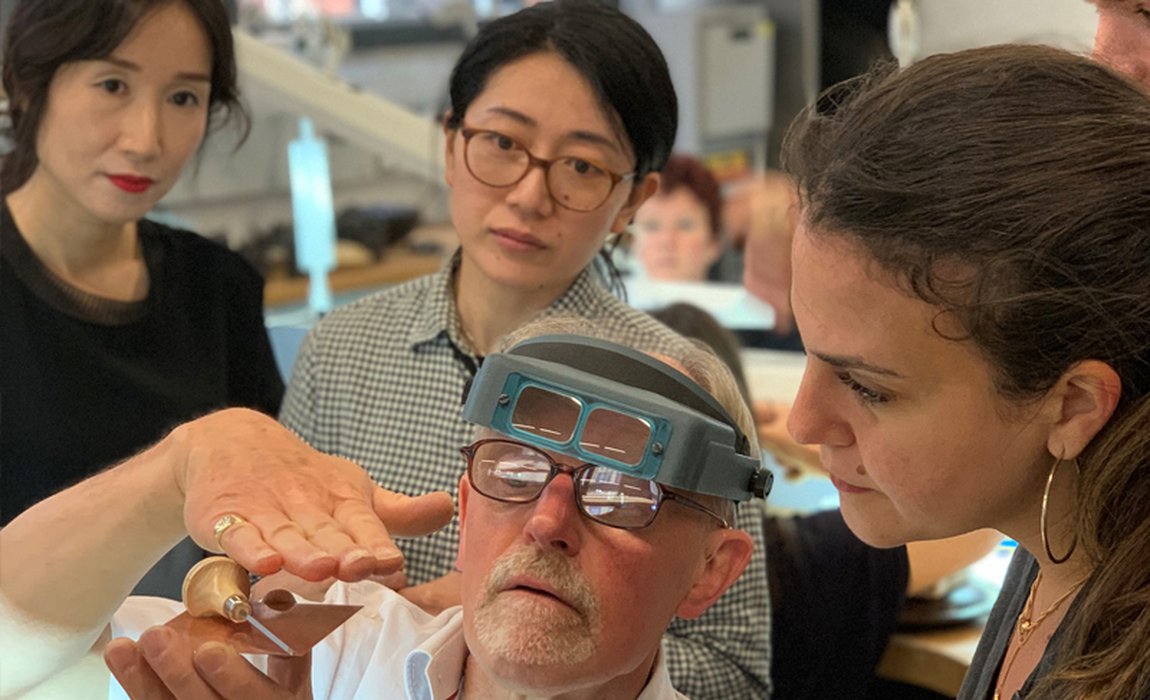 There are currently no dedicated Higher Education courses in hand engraving on offer and very few Higher Education Institutions include engraving as part of their jewellery and metalwork curriculum. The Hand Engravers Association and the Goldsmiths' Centre both recognised the urgent need to find tutors to teach future generations this specialist skill and to secure apprentices for the industry. 
Sally Dodson, Manager of the Hand Engravers Association explains: 
"It has been a long-held ambition of the Association to expand the training opportunities available to beginners and intermediate engravers, offer workshops and courses outside of London and encourage more engravers into teaching. The timely financial assistance and support from the Goldsmiths' Centre has been the springboard that enabled the Association to redevelop its training programme and the positive impact will be seen well beyond the grant end in December 2019."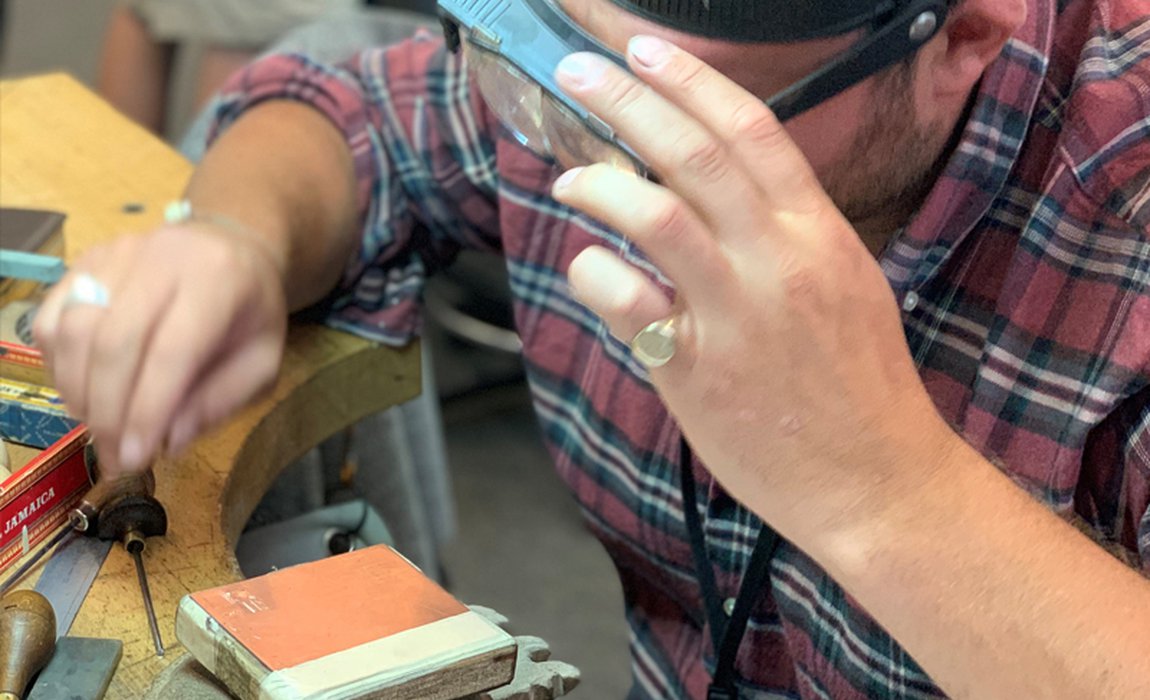 In addition, the funding is supporting the creation of a dedicated collection of ten hand engraved copper plates for visual display and handling. As hand engraved pieces are made mostly to commission and returned to the client after production, the Hand Engravers Association has identified a lack of visual resources for teaching purposes as well as to inspire interest in hand engraving from new audiences. Hand engraving is a rare skill and copperplate engraving is a very niche specialism. With the help of like-minded organisations, The Hot Bed Press in Manchester and Baddeley Brothers in London, this project takes active steps to preserve the skill of copperplate engraving and pass it on to the next generation.