Goldsmiths' Craft & Design Council Awards 2021: The Winners
The Craftsmanship and Design Awards were hosted last night for the first time by the Goldsmiths' Craft & Design Council as a virtual event, enabling everyone to see a stellar line-up of award winners from the comfort of their home.
Hosted by Rachael Taylor as a COVID-safe livestream production, filmed at its traditional award ceremony venue Goldsmiths' Hall in London, the Goldsmiths' Centre was proud to see many familiar faces and alumni scoop up an accolade at the evening's online celebrations.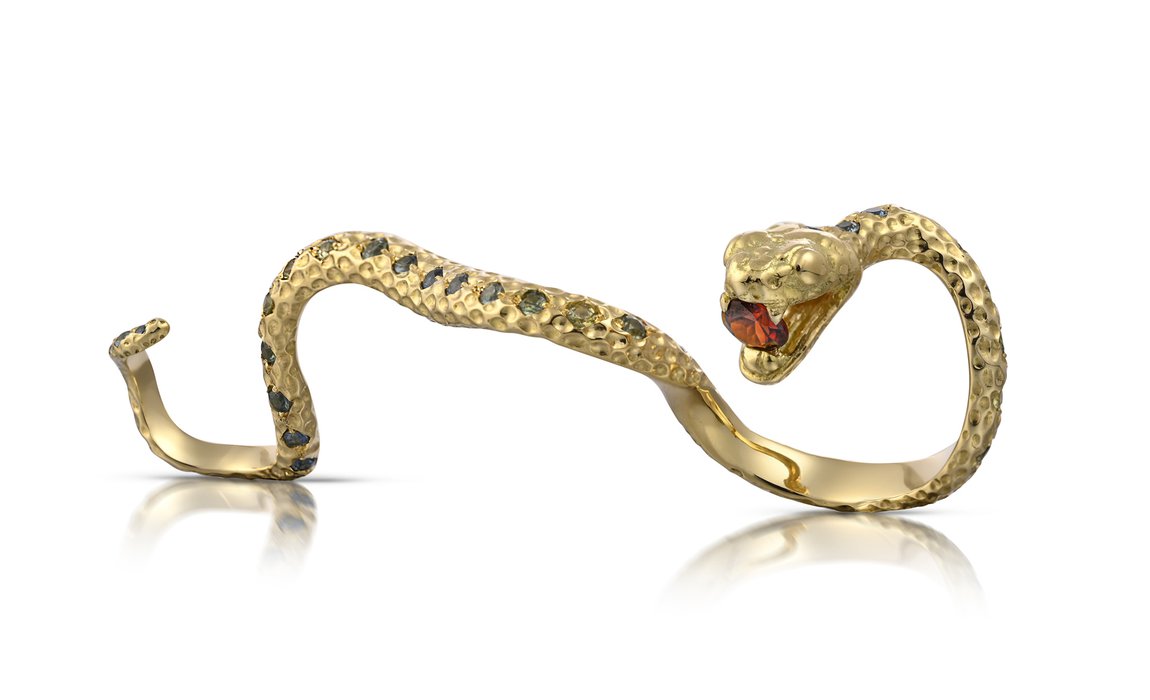 From those at the beginning of their journeys, to those established in their careers, the achievement of winning an award reflects each recipient's level of skill, design excellence and dedication to their craft, as well as the training that they have received from others.
Our team congratulates, in particular, current Foundation Programme trainees, Ida Jorgenson and Joshua Hook for each winning their first design award, and former Foundation Programme trainee and Goldsmiths' Company Apprentice, William Sullivan, who won three awards at last night's event including the Theo Fennell Apprentice and Master Award and Junior Award. William was also contender for the Jacques Cartier Memorial Award, given at the discretion of the GC & DC for exceptional and outstanding craftsmanship – an incredible achievement at such a young age.
Many of this year's award recipients have connections to the Goldsmiths' Centre and we would like to congratulate them all on their success:
Winner
Award(s)
Connection to the Goldsmiths' Centre
Sorrel Acacia

Jewellers (Junior) - Silver

The Paul Podolsky Award

Getting Started Online 2021
Andrew Birks
Modellers (Senior) - Bronze
The Goldsmiths' Centre team
Elizabeth Jane Campbell
Enamelling - Silver

Getting Started 2015

Sophie Chapman 
Modellers (Junior) - Silver 
Foundation Programme 2018-19
Current Goldsmiths' Company Apprentice
Sanni Falkenberg
Lapidary and Carving - Bronze and Silver
Getting Started 2013
Richard Gamester
2D Design - Diversity & Inclusion [Sponsored by NAJ] - Gold

The Goldsmiths' Centre team

Iona Hall

Smallworkers - Bronze

Smallworkers and Model Makers (Junior) - Bronze

Getting Started 2019
Celeste Heathcote
Engravers, Die Sinkers and Seal Engravers (Junior) - Silver

Foundation Programme 2018-19

Current Goldsmiths' Company Apprentice

Carys Hindry

Polishers - Silver

Former Goldsmiths' Company Apprentice
Joshua Hook
2D Design - Silversmiths [Sponsored by Champagne Gosset] - Bronze

Foundation programme 2020-21

Hugo Johnson
Smallworkers and Model Makers (Senior) - Silver

Foundation Programme 2012-13

Former Goldsmiths' Company Apprentice

Ida Jorgensen
2D Design - Medal Design - Bronze
Foundation Programme 2020-21
Adriana Klimentjevaite
Diamond Mounters (Junior) - Silver
Foundation Programme 2015-16
Former Goldsmiths' Company Apprentice

Naomi Nevill

The 2D Hand Rendering Design Award

2D Design - Conceptual Jewellery - Silver

Getting Started 2016
Rebecca Oldfield
Silversmiths (Junior) - Silver
Getting Started 2020
Ellina Pollitt

Laser Technology - Gold

Alpha Laser Award

Getting Started 2020
Joel Quilley

Smallworkers and Model Makers (Junior) - Gold

Diamond Mounters (Junior) - Gold

Current Goldsmiths' Company Apprentice

George Schembri
Diamond Mounters (Junior) - Gold

Foundation Programme 2015-16

Former Goldsmiths' Company Apprentice

Sarah Shelton-Palmer

Silversmiths (Junior) - Bronze

Chasers (Junior) - Silver

Shine 2020
Rod Smart
Chasers (Senior) - Gold
Foundation Programme Tutor
Simeï Snyman
2D Design - Diversity & Inclusion [Sponsored by NAJ] 
Getting Started 2017
Yasmin St Pierre
Lapidary and Carving (Junior) - Gold
Former Goldsmiths' Company Apprentice
William Sullivan

Silversmiths (Junior) - Gold

Birmingham Assay Office Award

Theo Fennell Apprentice and Master Award

Foundation Programme 2015-16

Former Goldsmiths' Company Apprentice

Clio Thomas
The Gemmological Association of Great Britain [GEM-A] Award

Setting Out 2019-20

Goldsmiths' Centre Gold Member

Katie Watson

Silversmiths - Bronze

Chasers - Bronze

Shine 2020

Olivia Woodhouse
Ready-to-wear Jewellery - Silver
Getting Started 2021 Online