Serendipity Studio installation launches at the Goldsmiths' Centre, part of Clerkenwell Design Week
From 23 to 25 May 2017 the Goldsmiths' Centre in the heart of Clerkenwell will be celebrating iconic designs, processes, materials and techniques as part of the eighth edition of Clerkenwell Design Week (CDW), the UK's leading independent design festival. Working in partnership with London based design companies, the Goldsmiths' Centre will present The Serendipity Studio, an environment where visitors can attend drop-in demonstrations and talks on design innovation and find inspiration relevant to their industry. Created for CDW and to mark the Goldsmiths' Centre's 5th Birthday, visitors will also get to see a striking installation on the building's façade, symbolising creative collaboration across design disciplines.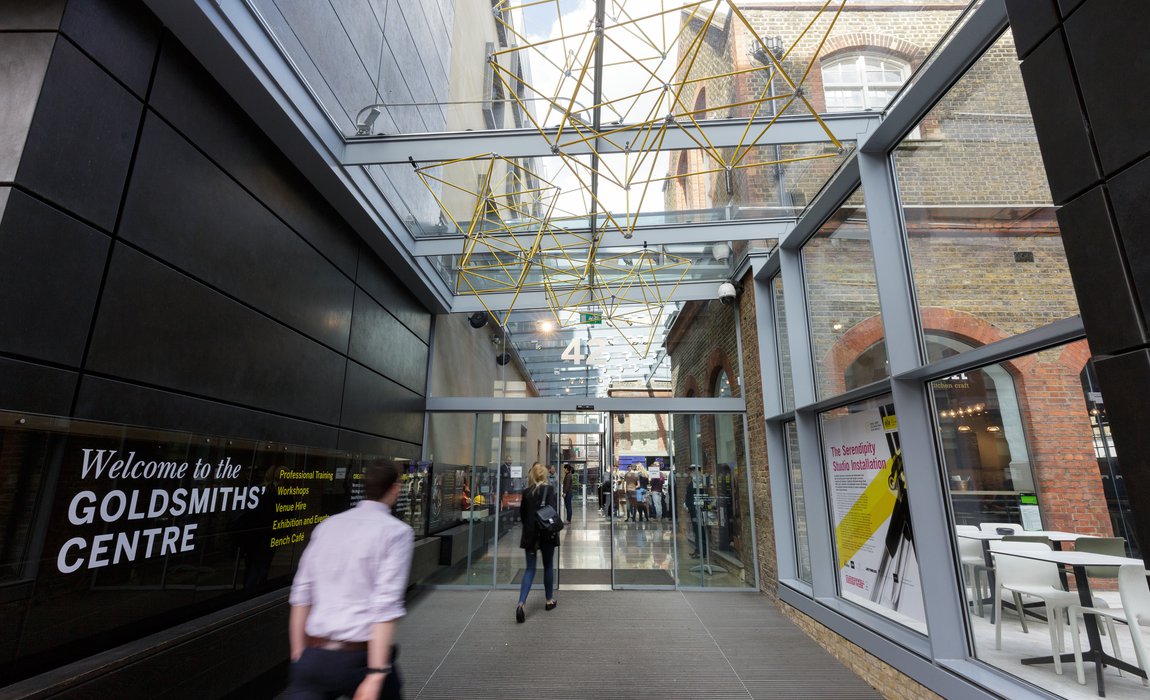 This year's CDW programme at the Goldsmiths' Centre is the result of a collaboration with five design companies who met just 5 months ago. The group includes a group of architects, structural engineers, a materials library, a bespoke bike designer and former jeweller, an engine turner and a 3D printing studio. The programme has been designed to be a place of cross disciplinary collaboration and visitors will be encouraged to find inspiration and discover techniques, materials and process that they may never have encountered or considered before.
Over the three days The Serendipity Studio will be host to SCIN, Hartley Cycles, Reynolds, The Society of Ornamental Turners, Scale Rule, Digits2Widgets and Jailmake who will present their latest design solutions and lead drop-in discussions and demonstrations on how accidental connections, discussions and collaborations can be the starting point for many iconic designs. Highlight talks include Process: Transcending 3D Printing on 23 May with architect and Digits2Widgets Design Director, Jonathan Rowley, as he presents a series of applications of 3D printing applied to other processes, challenging the media-hype around 3D printing. This will be followed by Solutions Looking For Problems on 24 May, hosted by Scale Rule, and featuring four design companies (including Build with Hubs and Smile Plastics), whose short presentations on design solutions could create that 'lightbulb moment' for those in the audience.
The unique installation, created from bicycle tubing donated by Reynolds, on the façade of the Goldsmiths' Centre represents a unique project made possible through the collaborative working of five design companies. By sharing their specialisms, techniques and resources, the group not only found a number of similarities, but also ways that they could be part of inspiring innovation in each other's industries. Designed by Scale Rule, a collective of architects and structural engineers that seek to promote public engagement in our built environment, the installation was inspired by a discussion with Caren Hartley on the scalable nature of bicycle frames. The project then developed to see real innovation taking place as Build with Hubs joined the design team, pushing their nodal prototype – designed to create geodesic domes – to the limits, with Digits2Widgets facilitating form finding by 3D printing components through the process. Material Library SCIN provided support advising on and sourcing a varied range of lightweight, flexible and versatile materials to complete the installation.
The exhibition 20:20 Visions – Celebrating 20 Years of ACJ on display in the Goldsmiths' Centre's glazed Atrium from 18 May to 30 June 2017, will provide visitors with the opportunity to explore how a wide range of materials, new technologies, techniques and methods of construction are applied in the world of jewellery. To mark its 20th anniversary, the Association for Contemporary Jewellery (ACJ) has invited twenty of its most prominent and innovative members to exhibit two pieces of work, including Terry Hunt's 4x4 on Purple Brooch (2016) and Maria Hanson's Consumption #1 1820 Units Neckpiece (2016), from circa 1997.
Visit The Serendipity Studio from 23 to 25 May 2017 from 10am to 5pm. To register and book tickets for the talks programme visit www.goldsmiths-centre.org/whats-on/public-events