Your Impact Story: The Power of Pocket-Sized Art: The British Art Medal Society Student Project
Identity politics, the Covid-19 pandemic, climate change, racial injustice, internet culture; these are issues inextricable from the modern age - they have come to define the era we live in. Yet, for young artists participating in the British Art Medal Society's Student Medal Project, it is a portable art form dating back to the Italian Renaissance that proved a conduit for expressing their innermost thoughts and feelings on these contemporary topics: the modern art medal.
Whilst medals are often associated with award-giving, particularly in regard to sporting events, the British Art Medal Society (BAMS) is dedicated to promoting medals as an artistic as well as a commemorative medium. A registered charity founded forty years ago this year, with its secretariat at the British Museum, it achieves this through various initiatives such as workshops, seminars and exhibitions. These include, but are not limited to, an international bi-annual publication called The Medal, a yearly conference, and through the commissioning of medals by distinguished sculptors and artists – and sometimes students - which are then available for purchase by BAMS members.
In 1993, the Society launched the Student Medal Project under the Directorship of Marcy Leavitt Bourne, an art historian and BAMS Council member, who felt that:
"The only way that the modern art metal was going to gain traction was to have young artists or students at art colleges and their teachers become more acquainted with the art of the medal."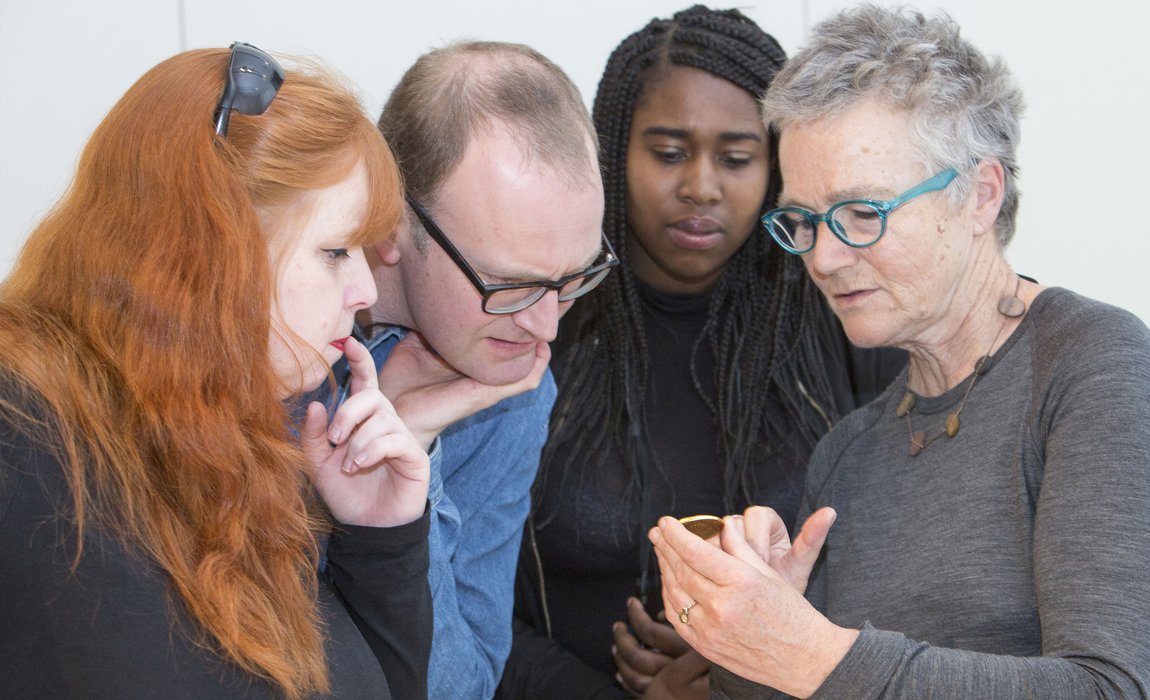 For several years The Goldsmiths' Centre, in conjunction with The Goldsmiths' Company Charity, has helped fund delivery of the Project, including in 2022, when young people on The Goldsmiths' Centre Foundation Programme and The Goldsmiths' Company Apprenticeship Scheme successfully took part. These are prestigious training programmes coordinated by The Goldsmiths' Centre, which enable young people to start their careers as jewellers, silversmiths or allied craftspeople.
Usually starting in the autumn term, the Project often begins with a presentation by a member of BAMS, sometimes Marcy herself, either in person or via Zoom with PowerPoint, and can also include a medallist talking about their practice and working methods. A design brief, which explains the parameters of the medal and sometimes a suggested theme, is then sent to teachers and made available to the students, so that they can discuss it within their course. For colleges that have been participating in the Project for several years, this introduction is not always necessary; but previous participants - including those who took part in the Project up to fifteen years ago - may deliver a midterm talk on how it has impacted their life and career.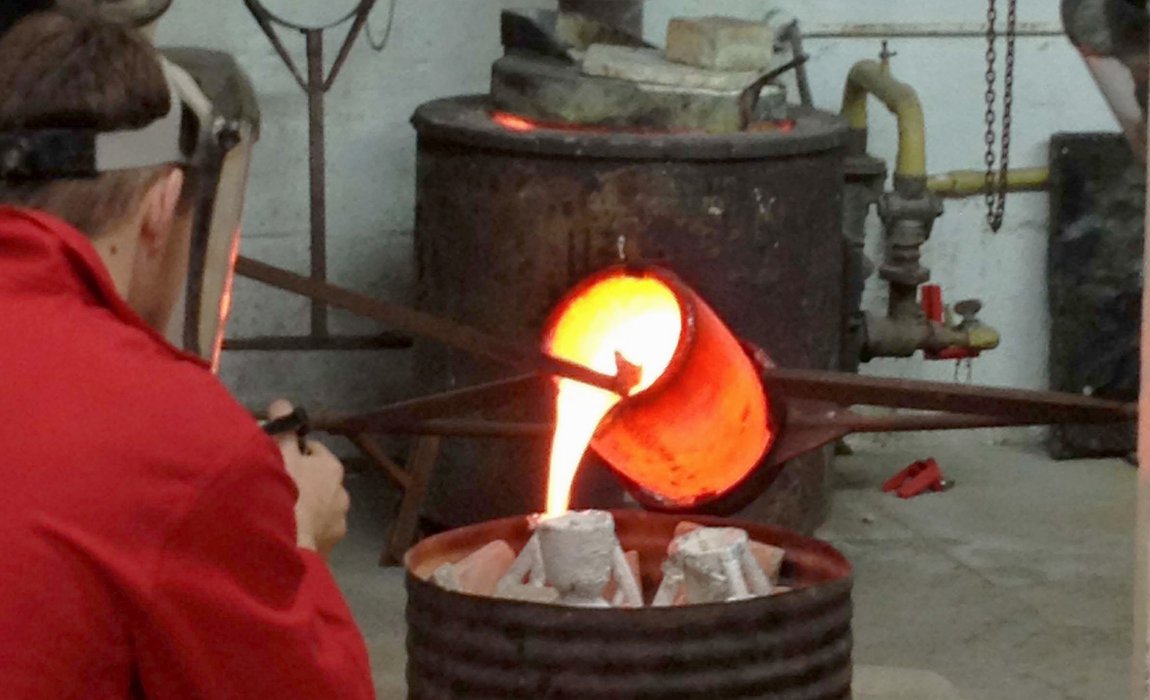 A key component of the Project's success is that in order to create a medal and meet the brief, students must also develop a number of essential skills, which have broad applications for their creative development; these include modelling, design, carving, and most significantly, the lost wax process and bronze casting, which is how the medals are created. There may be the opportunity to experience the challenges of working for commission and making an edition of their medal for sale, as the art medal can be a multiple rather than one-off piece, and students are also encouraged to engage with exploring and articulating the ideas and themes behind their work. These are useful lessons whether students opt for working on a large or small scale in their future careers.
The Project culminates in around 100 to 150 students, and even their tutors, creating unique, contemporary art medals. These student submissions are then assessed by five judges, and prizes are awarded for "excellence in the medium".
"The Student Medal Project, including its annual catalogue, is made possible by support from The Goldsmiths' Centre, and The Worshipful Company of Tin Plate Workers alias Wire Workers. The Worshipful Company of Founders gives the Grand First Prize of £1000, and Thomas Fattorini Ltd gives the Grand Second Prize of £500; The Worshipful Company of Cutlers, Pangolin Editions, G W Lunt and others provide further prizes for cast medals."
All of the medals created for the Project are featured in a digital catalogue which illustrates the ten prize-winning medals, and a selection of the works are included in an exhibition hosted at a prestigious arts or education venue. The most recent exhibition in 2022 took place at New Ashgate Gallery in Farnham, with a total of 85 selected medals on display. The exhibition programme may also include talks, demonstrations or introductory workshops into medal-making, led by previous Project participants, which can also be aimed at local schools.
The Project creates an interface between colleges and the wider public, and there is also the chance to be shown abroad at the international Medal Congress, to which a small selection of student medals are sent every two years.
"Although there is a competition element because there are prizes, the idea is that it is a Project in which art institutions around the country participate, enabling students from different colleges to see or read about what students were doing in other places, and not just focus on the prizes. Everybody who participates is important and is put into the catalogue, and we ask each of them to write something about their work and explain it. So, from the very beginning, the Project was intended to be very communal, very cooperative - I really stress when people talk about it as a competition that it is also a Project."
Whilst students were asked to respond to a theme for previous incarnations of the Project, such as Endangered Species (looking at the Red List) in 2020 and Black Art Matters (acknowledging its wide influence) in 2021, the 2022 edition asked participants to create an art medal based on a topic about which they felt strongly. The results were powerful and thought-provoking.
The 2022 catalogue, which features a short paragraph from each student on the concepts and motivations behind their medal design, is a glimpse into the subjects that trouble, fascinate and challenge younger generations, as they grapple with a future that is likely to be marred with environmental catastrophe, vast political divides, and economic imbalance. Since the Project coincided with the Covid-19 pandemic, several medals also delve into the impact of lockdowns on students' lives and studies.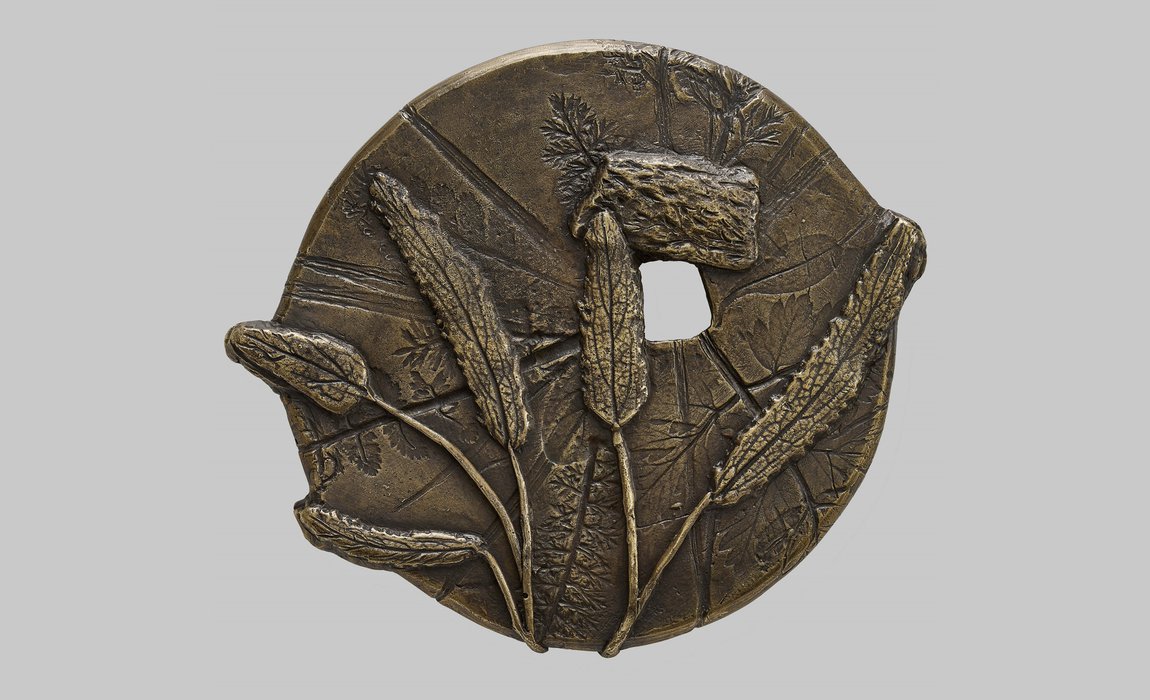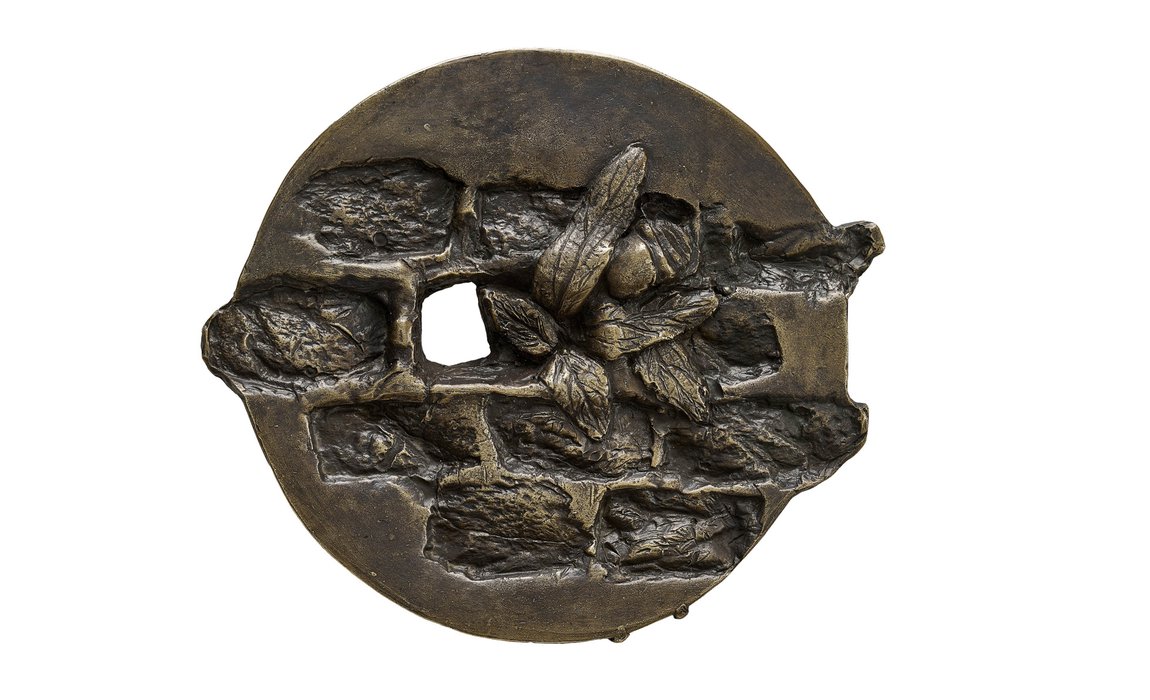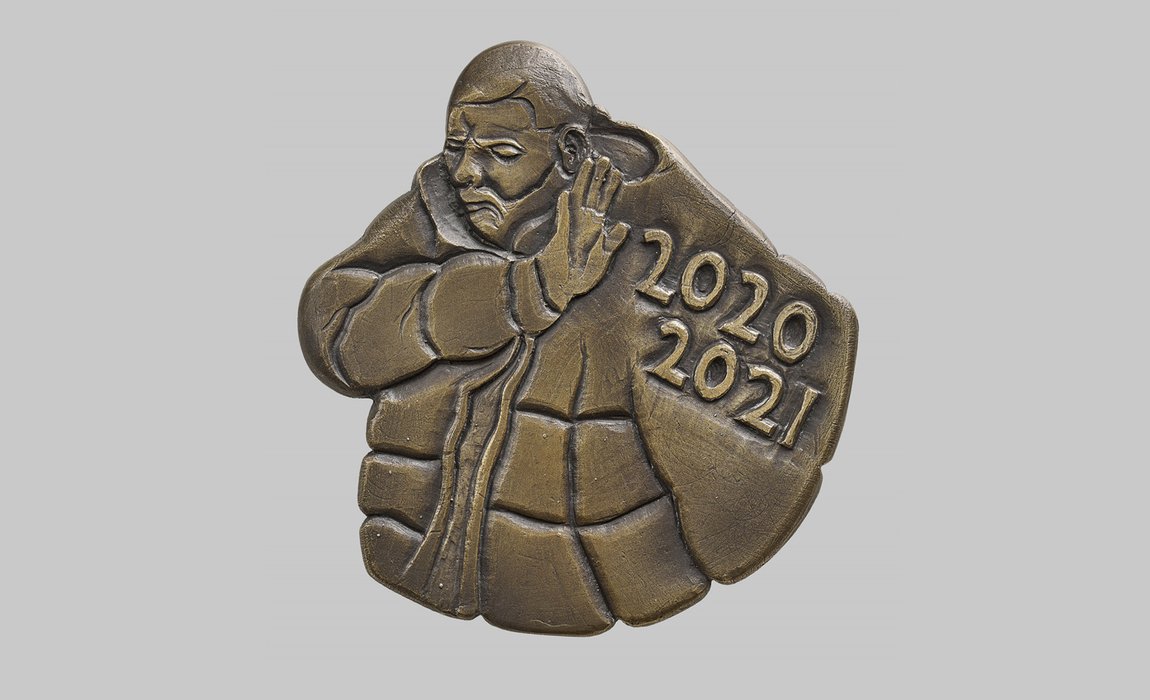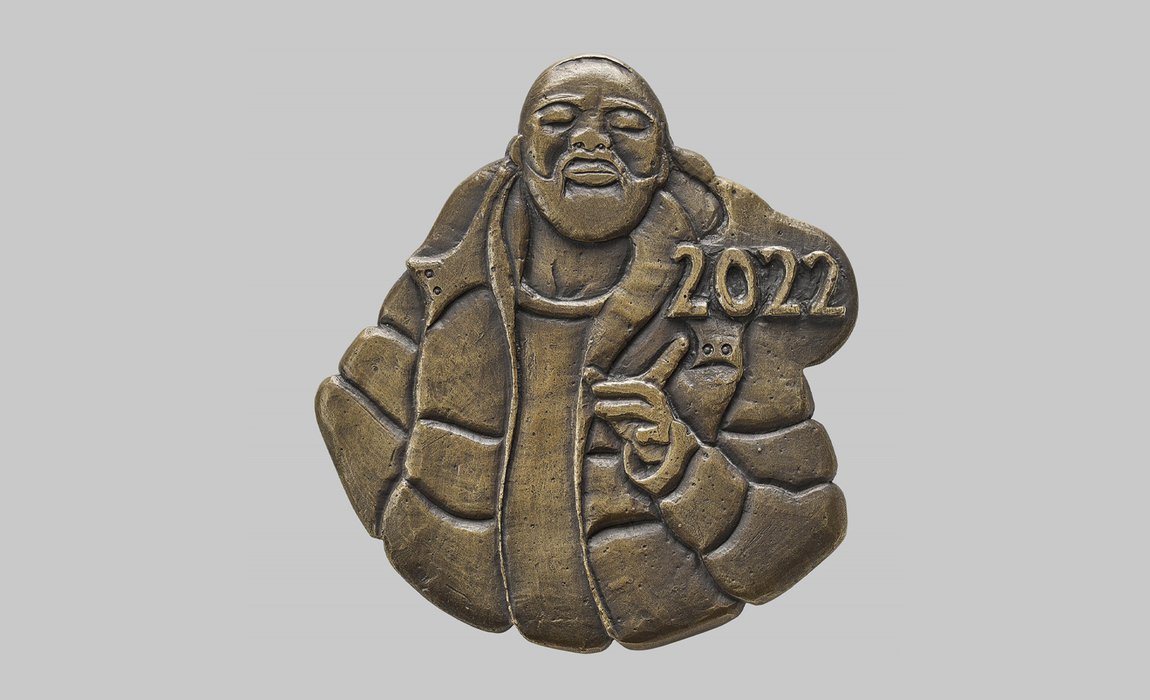 The 2022 winners include Janna Griffiths of the University of the Creative Arts Farnham, whose medal Interloper uses the idea of wildflowers growing in an urban environment as a metaphor for the experience of "imposter syndrome", and Sleeping Foxes by Jessica Troje-Tuck of Falmouth University, which celebrates British biodiversity for its simultaneous fragility and resilience.
Marcy expands on the thoughts behind the Project:
"One of the reasons we started the Project was to get away from that kind of Victorian idea of only round medals hung around the neck with a ribbon. For example, David Smith's amazing Medals of Dishonour, created between the two World Wars in the 30s, are powerful anti-war statements. They were what inspired me to look at what the modern art medal can do - they criticise politics, the church, journalism, bankers, cronyism."
"The medal as a vehicle for saying something powerful goes back a long way, and as an art historian, I wanted to broaden the students' concept of what is art and what's out there. I was very pleased with the research that they did and with the medals that they made. There were excellent responses to subjects like the isolation of the pandemic, the environment, the refugee crisis, diversity and belonging. Some were deeply personal, some had a narrative, some were entertaining or funny. It was a real opportunity for the participants to think more deeply about who they are, and what matters to them. To say something, and to be heard."
"We look forward to this 30th anniversary year, and decided to have quite a simple theme, just the word "History", from which students can chose to make art medals that are personal, political or perhaps poetic. It will be up to them how they think about this. There is a discussion to be had about "false history" – what is taught, or not taught – which students are becoming more aware of. They are incredible, how they think and how they express themselves with the modern art medal. It gives them the opportunity to focus on one small object. No wonder they are so strong. We will be having an exhibition in London in the spring, along with the annual Conference."
To find out more about the British Art Medal Society and how to take part, visit: bams.org.uk
Image Credits: Stephen Dodd (British Museum) Central Saint Martins, UCA Farnham