Gold Membership
Looking to impress your clients? Be a part of our prestigious community and book a meeting room, hot-desk or bench on a flexible basis in central London's Goldsmiths' Centre.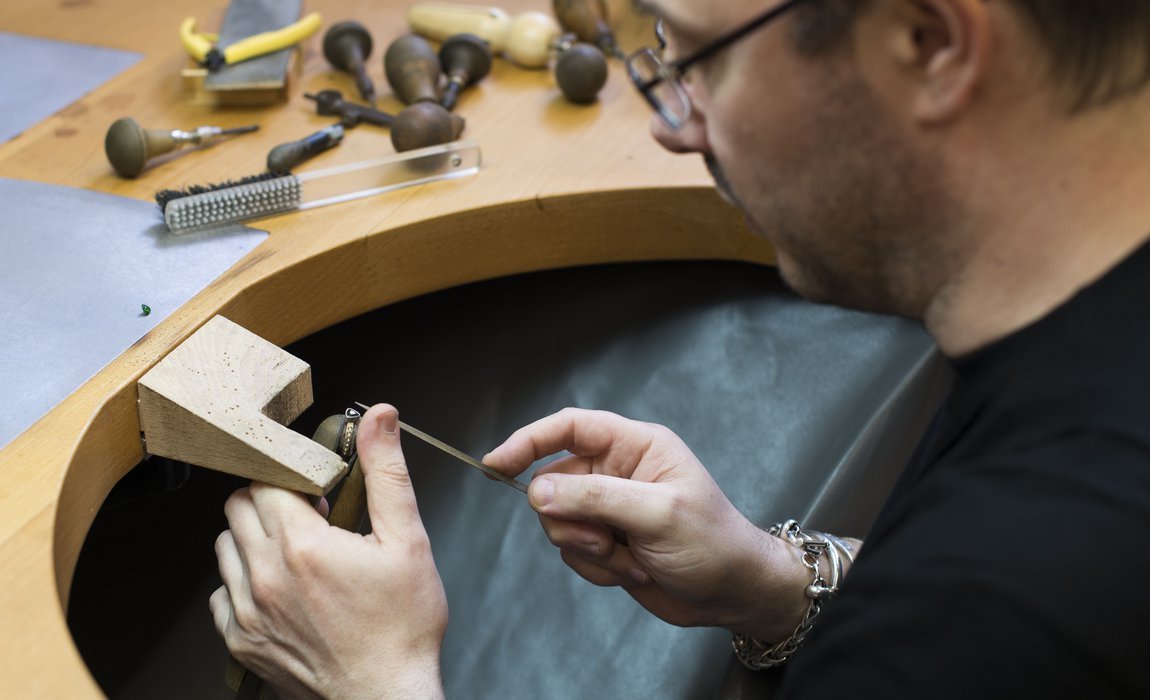 £95 plus VAT per month*. Minimum 12 months membership.
Like to know more about Gold Membership, arrange a visit of our facilities or apply to join the scheme? Download our application form below or just talk to our team! Call 020 7566 7650 or email
Our Gold Membership supports some of the most promising businesses in the jewellery, silversmithing and allied industries with flexible facilities bookable online. Whether you are looking to meet clients, work on your pieces or network with other Gold Members, the Goldsmiths' Centre offers the perfect secure and professional environment to run and grow your business.
Apply now for Gold Membership

(117.0 KB)
See what benefits we've got in store for you:
Register your business and postal address at the Goldsmiths' Centre with use of your own secure mailbox 
Book online and host your clients in our meeting room*** 
Book online or by appointment and access our equipped spaces from hot-desks and hot-benches with workshop equipment***  
Gain access to a locker for daily use in our equipped workshop or a secure space for the long term storage of valuables or collections
Promote your business through the Goldsmiths' Centre website and social media channels 
Benefit from discounts - 20% off selected Technical and Business Skills short courses, 20% off venue hire and 25% off in our café
Network and share your views with others at our Creative Links talks and Creative Inspiration Workshops 
Get exclusive invitations to exhibition previews and private events 
What equipment does the workshop include?
Secure locker*
Rolling Mill
Draw Bench 
Small Polishing Motor
Drill
Ultra-sonic Cleaner 
Pendant Motor
Forge 
Secure lockers are subject to availability. 
What are the opening times for Gold Member?
Open Monday – Friday  
9am – 5pm (Hot Benches)
9am – 6pm (Hot Desks and Meeting Room)
Closed Saturday and Sunday 
How do I apply to become a Gold Member?
You can apply to become a part of the Goldsmiths' Centre if you have been running your business for at least 2 years and have developed a full collection or an established service. Gold Membership is offered to a limited number of business individuals each year, who reflect the high standards of best business practice and craftsmanship of our community. 
Once your application has been reviewed, you may be invited for an interview where you will get to have a chat about your work and aspirations for joining the Goldsmiths' Centre's creative community as a Gold Member. If successful, we will provide you with a full workshop induction, including if needed training on our laser welder and polishing motor.  
Download our application form

(117.0 KB)
*subject to availability.
**Terms & Conditions will apply. Details of the offer and the associated fee are subject to change as we develop our services to respond to members' demands. 
***All our facilities are bookable subject to availability and members' assessment on workshop equipment.