Pavé Setting with Niall Paisley
Date

10 May 2022 - 11 May 2022 · 9.30AM - 4.30PM

Price

£349 (6 places)

Venue

Specialist Workshop

Event type

Courses
Book now
Learn how to "Pavé set" your work with small gemstones, creating a seamless finish and one continuous sparkle. Experienced diamond setter, Niall Paisley, will show you step-by-step how to correctly mark out, drill and set stones in your complex design.
Over two-days you will be expertly guided through the steps of pavé setting to achieve this eye-catching technique. Your tutor will provide an in-depth introduction to pavé setting by hand, building up your skills to a good degree of precision in metal preparation. You will also have time for extensive practice on a variety of cuts and styles.
What will I learn?
Accurately marking out and drilling for setting
Prepare and adjust equipment to your need including sharpening your tools
Using your tools and equipment to ensure precision practice
Different styles of grain patterns will be demonstrated: single, 4 and 5 grains
Cut down setting
Castellation setting
Problem solving
Our small class size offers you the chance to get group as well as individual guidance and 1:1 time with your tutor, allowing you to receive tailored advice to deepen your knowledge and understanding of this setting technique.
What do I need to bring with me?
Protective clothing or clothing you do not mind getting dirty e.g. apron, and closed toe shoes.
(Optional) You can bring your own spritz stick, scorper and other setting tools
(Optional) Spectacles or head visor (if required) to work on small details
You will be provided with:
Practice plates
Drill bits and burr as required
CZ's in required size and quantity
Silver ring blank
All tools including Spritz stick, scorper and pusher
Files to make some tools
Buff sticks
"I loved the course! Even over 2 days I learned so much to carry on practicing in my own time. Niall really set everyone up with the techniques they can tailor to their own work. Would definitely recommend to anyone looking to learn setting!"
Who is this course designed for?
Intermediate: Some practical experience and understanding of the listed skill required.
Advanced: Practicing craftsperson looking to further an existing skill.
Participants should be comfortable in a workshop environment and be able to work independently on basic tasks.
This course is suitable for someone who has control of the pendant motor and a good grasp of cutting with scorpers.
Can I receive financial support to access this course?
We believe that talent should not be held back. Here at the Goldsmiths' Centre, we are open, accessible and inclusive to all. Our Access Grants help anyone to build thriving creative careers, supporting jewellers, silversmiths and allied industry practitioners to access our training courses for free.
If you need help to cover fees for our business and technical skills short courses, please apply for one of our Access Grants. To find out more and read our application criteria, click here:
The Access Grants are delivered by the Goldsmiths' Centre and funded by the Goldsmiths' Company Charity.
Who is the tutor?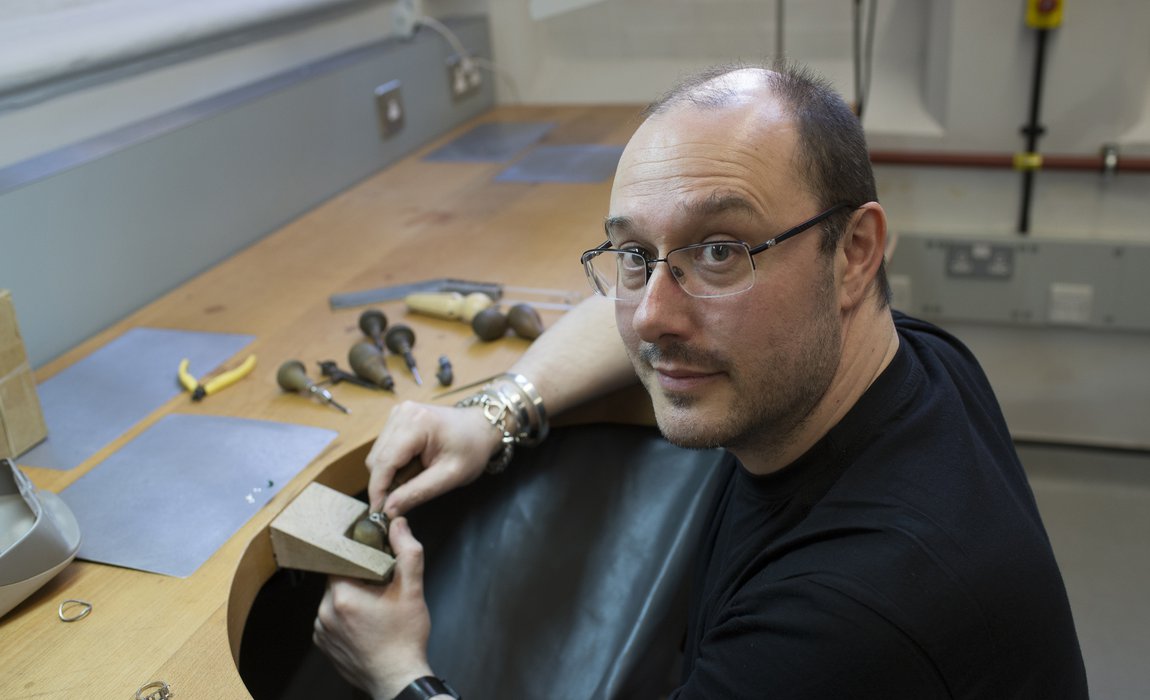 Niall Paisley embarked on his jewellery career in 1989, where he undertook a 5-year apprenticeship with B&B Setting under his Master Eddy Brown. Following this, Niall spent the next 10 years setting stones as an outworker for various names and companies, including Cartier and Leo de Vroomen. In 2005 Niall opened his own shop in Greenwich, specialising in bespoke jewellery and also ran a gallery that supported 40-50 young jewellery designers from the UK. In between all of this, Niall has taught Setting at Holts Academy (known today as the BAJ) and now teaches on our Apprenticeship Scheme here at the Goldsmiths' Centre. Niall is a fellow of the IPG and has also judged the Setting section of the Goldsmiths' Craft & Design Council awards.