Costing and Pricing your Pieces
Date

28 Jun 2022 · 10:00AM - 1:30PM

Price

£79 (20 places) recorded with 1 month access

Venue

Online via Zoom [GMT]

Event type

Courses
Register your interest
Costing and pricing your work is one of the most challenging aspects of being a small jewellery or silversmithing business. Get your prices wrong and you could sell too little, to the wrong people, or not at all. So how do you go about costing and pricing your latest piece or collection?
In this live online course, jeweller and jewellery business development specialist Sally Leonard, will provide you with tools and skills to cost and price your work, along with consumer insights from her own experience, and from the wider industry.
This online course will be accessible via the Goldsmiths' Centre's Virtual Learning Environment (VLE) for a full month after delivery. This will allow you to rewatch the content and improve your skills in your own time.
What key topics does the course cover?
The importance of costing and the importance of pricing
Costing and pricing as part of your business development
How to cost your time
Covering collection development costs, sampling and more
Consumers and their perception of value
How to cost and price your pieces
How to price across your range
The difference between bespoke and collection pricing
How does VAT affect costing and pricing?
Understanding wholesale and retail markups
What will I learn?
This live online course has been specifically created for jewellers and silversmiths selling their work primarily in the UK (either wholesale or retail). It will focus on your own business and one of your pieces, using individual exercises and group work to open up discussion and help you apply the learning.
To further help you put theory into practice, the course fee includes:
Spreadsheet templates to help you cost your time and your work (Please note: You will need to complete one of these templates ahead of the session)
A document containing selected Goldsmiths' Company research findings around consumer preferences and purchase behaviour
The ability to re-watch a recording of the session, as many times as you wish, for one month after the course ends.
How do I access this online course?
This online course will be delivered live on Zoom, so you will need a stable Internet connection. You will be granted access enter to the Goldsmiths' Centre's virtual learning environment (VLE), via which works on any mainstream web browser, on computer, tablet, or smartphone device. You will access the course via a Zoom link within the VLE. You will
also be able to re-watch the recording of the course within the VLE. One week before the course begins, you will receive an email with detailed instructions on how to gain access to the VLE.
To get the most out of the course you will also need to have with you:
One of your own jewellery or silver pieces, or a high-quality image of a piece
Completed spreadsheet containing the 'outcosts' for your selected piece (you will be provided with a template and full instructions for this)
Who is this course designed for?
This course has been designed for jewellers and silversmiths with no previous training on costing or pricing, as well as those who have been taught how to price as part of an FE/HE academic programme (this course will extend your knowledge).
The course is ideal for those who want to:
Review or re-visit their costing and pricing methods
Check their wholesale or retail pricing for existing work
Make decisions about the costing and/or pricing of a new collection
Switch to new market segments
Introduce new product types
Work with new materials e.g. develop pieces using precious materials for the first time
Can I receive financial support to access this course?
We believe that talent should not be held back. Here at the Goldsmiths' Centre, we are open, accessible and inclusive to all. Our Access Grants help anyone to build thriving creative careers, supporting jewellers, silversmiths and allied industry practitioners to access our training courses for free.
If you need help to cover fees for our business and technical skills short courses, please apply for one of our Access Grants. To find out more and read our application criteria, click here:
The Access Grants are delivered by the Goldsmiths' Centre and funded by the Goldsmiths' Company Charity.
Who is the tutor?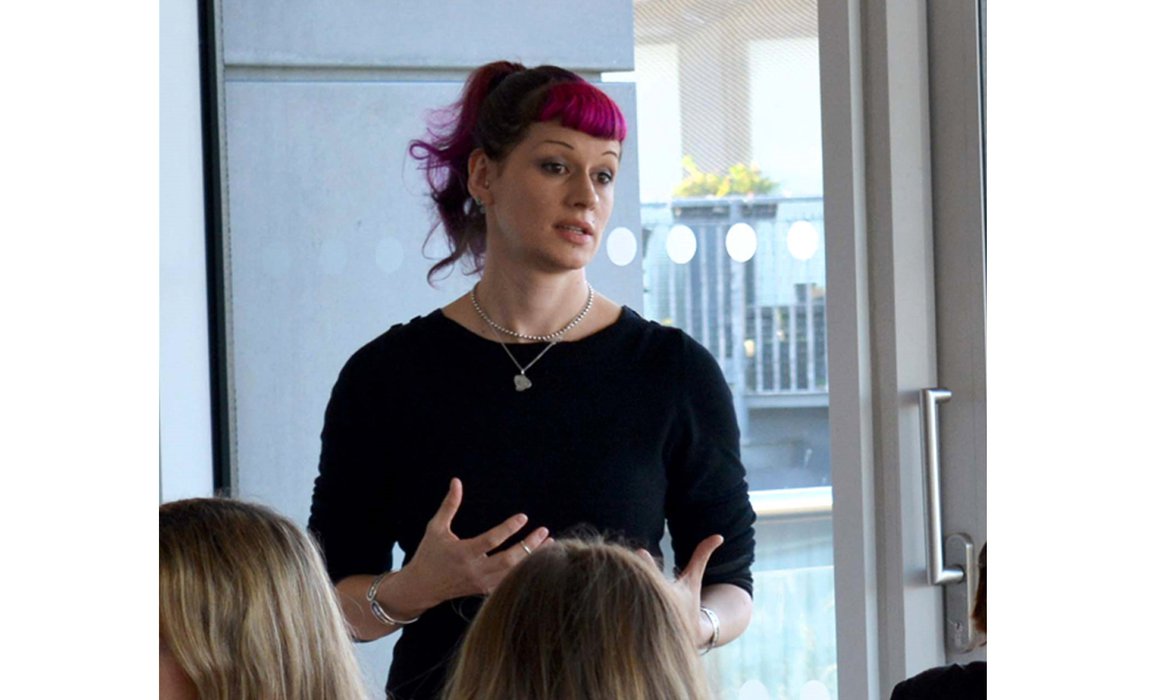 Sally Leonard has over 16 years of industry experience, including at the bench for her own ethical jewellery business, supporting and mentoring jewellery businesses of all ages, and as a member of various groups representing and supporting the local trade. She has been a core business tutor for the Goldsmiths' Centre for three years, working across all our business skills programmes.