Experiments in Form: The Brooch Unpinned with Dr Dora Thornton
Dr Dora Thornton, Curator of the Goldsmiths' Company Collection, introduces The Brooch Unpinned exhibition and the research and thinking behind it.
Experiments in Form - The Brooch Unpinned
The Brooch Unpinned: The Goldsmiths' Company Collection 1961–2021 celebrates the art of the brooch and the dynamic relationships it creates – between maker and wearer and between wearer and viewer. It explores a selection of British brooches from the Goldsmiths' Company's unique jewellery collection, tracing the evolution of contemporary design in this most wearable and revealing of accessories.
From ancient times, a brooch could be an emblem of authority, wealth and power. Before buttons or hooks, a brooch was the only way to fix textile to the body. That relationship with the body, and with textiles, underlines the role of micro-engineering in making a brooch work.
Brooches are versatile, can be worn to convey a message, or to spark a conversation. Brooches were at the heart of post-War jewellery design. Wendy Ramshaw referred to the brooch as 'a portable artform', and, as exemplified by our latest acquisitions for the collection, they continue to fascinate and challenge contemporary makers.
This talk was first held in March 2021 and was programmed by the Goldsmiths' Company and the Goldsmiths' Centre in partnership to accompany the exhibition.
Who is the speaker?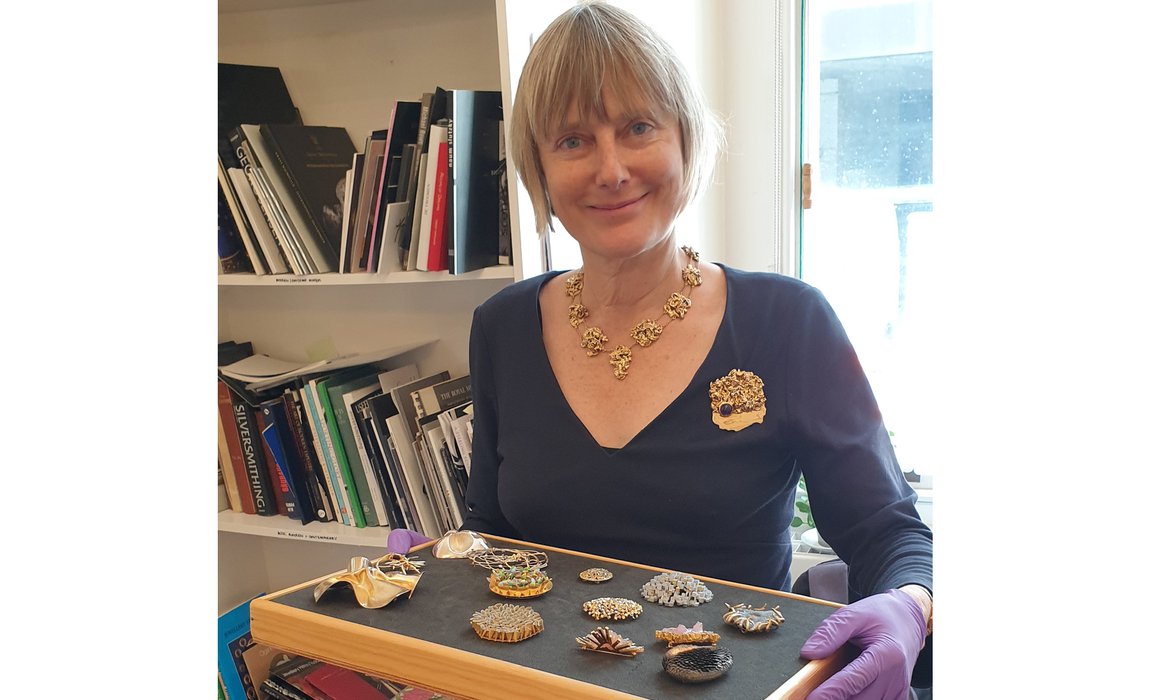 Dr Dora Thornton is Curator of the Goldsmiths' Company Collection. She publishes widely on Renaissance to contemporary applied arts and the history of collecting. This Brooch Unpinned exhibition held at the Goldsmiths' Centre will be opening subject to Government COVID-19 guidelines on Monday 12th April 2021 alongside an online events programme. The Goldsmiths' Company curatorial department curated The Brooch Unpinned and associated programme in partnership with the Goldsmiths' Centre.
 

Image credit: Brooch, 1963, John Donald – 18 carat gold setting with rose quartz centre, 3 baguette rubies at the centre, surrounded by 14 gold rectangular rods, some decorated with granulation, some polished and set with rectangular rubies – Photographer: Clarissa Bruce